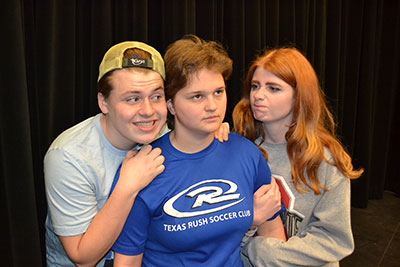 Amateur drama pieces are guaranteed to entertain the audience at Lone Star College-Kingwood's 11th annual "Evening of Shorts".
The "Evening of Shorts" is an original play festival that features works written, directed, performed and designed by LSC-Kingwood students, alumni, and community members. The second production of the 2017 spring semester will take place April 19-22 at 7:30 p.m. and April 22-23 at 2 p.m. in the Performing Arts Center (PAC) Black Box Theatre.
"These plays are created entirely by our talented students. The audience will see brand new plays that demonstrate what our students are thinking about today," said Eric Skiles, professor and artistic director of theatre at LSC-Kingwood.
This year's production will feature "Cogs in the Candy Machine" directed by Prince Winbush, III and written by Bay Berger; "Taylor Swift Fan Club Fiasco" directed by Adrian Banda and written by Stephen Garza; "Autonomy" directed by Carl Hailey and written by Matthew Lewis; "The Deal" directed by Allison Nauert and written by Michael Duff; "The Coldest Months of All" directed by Rachel Bloom and written by Briana Steptoe; and "For Allie" directed by Katherine Espin and written by Lauren Koen.
"I'm so excited to have my production brought to life by the awesome LSC-Kingwood Theatre Department. It is a crazy feeling to hear my words and see my ideas in motion," said Berger, writer of "Cogs in the Candy Machine". "The 'Evening of Shorts' gives students the opportunity to create something not just for a grade, but for their own desire. It also gives the community a chance to laugh, cry, and be amazed by what we are doing here at Lone Star!"
In addition to the aforementioned cast, other actors include Bruce Arrick, Robert Hermosillo, Doyna Johnston, Ricky Rios, Ariana Gonzalez, and John Wayne Tingley. The crew consists of Michael Pham, stage manager; Marissa Mascolo, costume designer; and Alli Nauert and Joshua McElroy, lighting designers.
Each production in "Evening of Shorts" is completely different and all six plays occur each night in 90 minutes. The following are the plots for each show.
"Cogs in the Candy Machine"— what did the Oompa Loompas in Wonka's Factory really talk about? Look into the daily lives of Oompa Loompas #004, #053, and #126.
"Taylor Swift Fan Club Fiasco"—when four groupies get together to celebrate their goddess, Taylor Swift, things suddenly get out of hand!
"Autonomy"— what happens when your servant tires of being your servant and longs for something more?
"The Deal"— do you wonder if you could cheat Death? Come see how Micah and Claire try to do the same.
"The Coldest Months of All"—look back in history at some of the brave men who gave their lives in defense of their country during World War II.
"For Allie"—how do you honor the passing of a friend – through memories and stories?
"Having my piece picked out from many others and having a group of people willing to direct and act out something I wrote is a pretty amazing feeling," said Duff, writer of "The Deal". "This production is a great way for people to experience the art of theatre and it is a place for students to show off their talents."
Tickets to "Evening of Shorts" are $14 for general admission, $12 for seniors age 55 and older and $7 for students. Tickets can be purchased online at www.lonestar.edu/seasons. All proceeds go toward student scholarships and theatre equipment. For more information, call the Box Office at 281-312-1532.
Register now for credit classes online through myLoneStar. Classes are offered days, evenings, or weekends in traditional, Internet, video, TV and independent study formats. For more information on how to register online, visit www.lonestar.edu/registration.
For general information about Lone Star College-Kingwood, call 281.312.1600 or visit http://lonestar.edu/kingwood.htm
Lone Star College offers high-quality, low-cost academic transfer and career training education to 98,000 students each semester. LSC is training tomorrow's workforce today and redefining the community college experience to support student success. Stephen C. Head, Ph.D., serves as chancellor of LSC, the largest institution of higher education in the Houston area with an annual economic impact of $3.1 billion. LSC consists of six colleges, eight centers, two university centers, Lone Star Corporate College and LSC-Online. To learn more visit LoneStar.edu.
###