LSC-Tomball Psychology Department
The Psychology Department offers a variety of courses designed to explore human behavior.  The introductory course, General Psychology, provides an overview of the field and is a prerequisite for other courses offered.  Additional courses include HumanSexuality, Lifespan Growth and Development, Child Growth and Development, Psychology of Personality, Social Psychology and Basic Statistics.
Classes are taught by experienced faculty who are committed to working with students to reach their goals.  Students have the option of studying in traditional face-to-face settings or online.  Online courses, while labor intensive, are designed to provide greater scheduling flexibility for students who are unable to attend a traditional class.  Many classes provide the opportunity for additional experience through service learning placements and honors projects.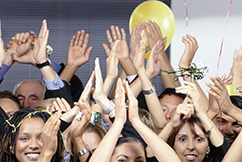 Faculty & Staff

Debra Parish
Chair of the Department
281-351-3341
David Beaulieu, Ph D.
Associate Professor
281-357-3684
Deena Donaho
Division Operations Specialist
281-357-3798