Recycling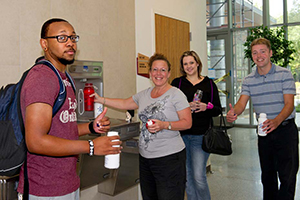 Lone Star College-Kingwood has long recycled paper and cardboard with student help. With the establishment of the College Sustainability Program, plastic bottles and aluminum cans were added, collection containers were purchased and a full time recycle custodian was hired. Various recycle vendors have been used, some paid for recyclables others charged for pick-ups. One even picked up for free. All, allegedly, depending on commodity prices for recyclables.
The Honors, Introduction to Computers class holds an annual electronics recycling drive. The drives are conducted at noon twice per week for a period of several weeks and on a Saturday morning. The drives have ended on Earth Day as part of the campus celebration. In the 3 years that the drives were held the following amounts were collected:
Electronics Recycling Results
2014 2919 Pounds
2013 6248 Pounds
2012 499 Pounds
LSC-Kingwood participates in RecycleMania and observes National Recycle Day. Below is the RecycleMania results for the past 5 years and our standing this year with Texas Schools.
In a related program, nine drinking fountains were modified for reusable bottle filling to reduce the number of plastic bottles used on campus, some of which were not recycled.