Seasons
OUR 2018-2019 THEATRE SEASON: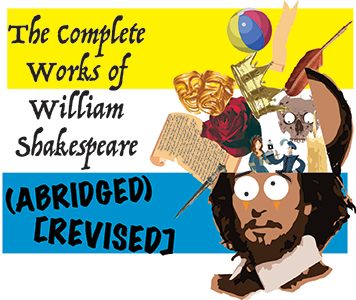 NOVEMBER 7-10,2018
7:30 pm
Music Building Recital Hall
Come watch 5 brave souls tackle all 37 of Shakespeare's plays and perform them in 97 minutes! Fast paced, witty, and physical, it's full of laughter for Shakespeare lovers and haters alike. One of the world's most frequently produced plays, this 20th anniversary edition has been translated into several dozen languages.
THANK YOU FOR COMING! We raised $1900 for Theatre Student Scholarships through ticket sales!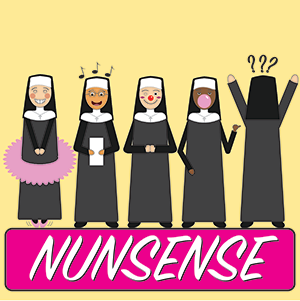 MAY 15, 16, 17, & 18, 2019
7:30 pm
Main Stage Theatre - Admin/Performing Arts Building (APA)
When the Little Sisters of Hoboken discover that they are in dire need of funds, they decide that the best way to raise the money is to put on a variety show, so they take over the school auditorium. Meet Reverend Mother Regina, a former circus performer; Sister Mary Hubert, the Mistress of Novices; a streetwise nun from Brooklyn named Sister Robert Anne; Sister Mary Leo, a novice who is a wannabe ballerina; and the delightfully wacky Sister Mary Amnesia, the nun who lost her memory when a crucifix fell on her head.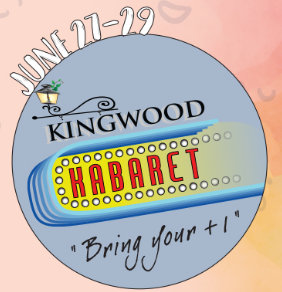 JUNE 27-29, 2019
7:30 pm
Black Box Theatre - Admin/Performing Arts Building (APA)
Our annual cabaret evening featuring Broadway show tunes, Jazz Standards, and other surprises! This year's theme is "Bring Your +1" - an program of duets, trios, quartets, and more! Come enjoy an evening of music in an upscale cabaret setting - complimentary beverages and dessert will be served!

OUR PAST SEASONS & HISTORY:
2018-2019 THEATRE SEASON: (shortened - due to Hurricane Harvey)
THE COMPLETE WORKS of WILLIAM SHAKESPEARE
(abridged)[revised}
by Adam Long, Daniel Singer, & Jess Winfield
November 2018
Music Building - Recital Hall
Directed by Kalliope Vlahos
Entry - TCCSTA Annual 2-Year College Play Festival
2017-2018 THEATRE SEASON: (shortened - due to Hurricane Harvey)
DRACULA
by Dean & Balderson
October 2017
Music Building - Recital Hall
Directed by Kalliope Vlahos
2017 CHRISTMAS CABARET
"Songs of the Season"
December 2017
Student/Conference Center Cafe
Directed by Eric C. Skiles
12th Annual EVENING OF SHORTS
Original One-Act Play Festival
February 2018
Music Building - Recital Hall
Mentored by Eric C. Skiles & Kalliope Vlahos
Entry - TCCSTA Annual 2-Year College Play Festival
SUMMER OPERA WORKSHOP
A Joint Venture of Music & Theatre Departments
August 2018
Music Building - Recital Hall
2016-2017 THEATRE SEASON:
THE MOUSETRAP
by Agatha Christie
October 2016
Main Stage Theatre - Performing Arts Center
Directed by Eric C. Skiles
GOODNIGHT, DESDEMONA
GOOD MORNING, JULIET
by Ann-Marie MacDonald
February 2017
Main Stage Theatre - Performing Arts Center
Directed by Kalliope Vlahos
Entry - TCCSTA Annual 2-Year College Play Festival
11th Annual EVENING OF SHORTS
Original One-Act Play Festival
April 2017
Black Box Theatre - Performing Arts Center
Mentored by Eric C. Skiles & Kalliope Vlahos
2017 KINGWOOD KABARET
"Music From the Movies"
June 2017
Black Box Theatre - Performing Arts Center
Directed by Eric C. Skiles
SUMMER OPERA WORKSHOP
A Joint Venture of Music & Theatre Departments
August 2017
Main Stage Theatre - Performing Arts Center
2015-2016 THEATRE SEASON:
THE CRUCIBLE
by Arthur Miller
Directed by Kalliope Vlahos
October 2015
Main Stage Theatre - Performing Arts Center
THE 25th ANNUAL PUTNAM COUNTY SPELLING BEE
by Finn, Sheinkin, Feldman
Directed by Eric C. Skiles
February 2016
Main Stage Theatre - Performing Arts Center
Directed by Eric C. Skiles
Entry - TCCSTA Annual 2-Year College Play Festival
10th Annual EVENING OF SHORTS
Original One-Act Play Festival
Mentored by Eric C. Skiles & Kalliope Vlahos
April 2016
Black Box Theatre - Performing Arts Center
2016 KINGWOOD KABARET
"Award Winners"
Directed by Eric C. Skiles
June 2016
Black Box Theatre - Performing Arts Center
Directed by Eric C. Skiles
SUMMER OPERA WORKSHOP
A Joint Venture of Music & Theatre Departments
August 2016
Main Stage Theatre - Performing Arts Center
2014-2015 THEATRE SEASON:
PROOF
by David Auburn
October 2014
Black Box Theatre - Performing Arts Center
Directed by Eric C. Skiles
ANATOMY OF GRAY
by Jim Leonard
November 2014
Black Box Theatre - Performing Arts Center
Directed by Eric C. Skiles
AND THEN THEY CAME FOR ME...
REMEMBERING THE WORLD OF ANNE FRANK
by James Still
February 2015
Main Stage Theatre - Performing Arts Center
Directed by Eric C. Skiles
Entry - TCCSTA Annual 2-Year College Play Festival
9th Annual EVENING OF SHORTS
Original One-Act Play Festival
April 2016
Black Box Theatre - Performing Arts Center
Mentored by Eric C. Skiles & Kalliope Vlahos
2015 KINGWOOD KABARET
"Naughty! Naughty!"
May 2016
Black Box Theatre - Performing Arts Center
Directed by Eric C. Skiles
2013-2014 THEATRE SEASON:
LOVE'S LABOUR'S LOST
by William Shakespeare
October 2013
Main Stage Theatre - Performing Arts Center
Directed by Eric C. Skiles
CORNER LOT (Original)
by Jackie Rosenfeld
Novebmer 2013
Black Box Theatre - Performing Arts Center
Directed by Eric C. Skiles
BLACK COMEDY
by Peter Shaffer
February 2014
Main Stage Theatre - Performing Arts Center
Directed by Kalliope Vlahos
Entry - TCCSTA Annual 2-Year College Play Festival
8th Annual EVENING OF SHORTS
Original One-Act Play Festival
April 2014
Black Box Theatre - Performing Arts Center
Mentored by Eric C. Skiles & Kalliope Vlahos
2014 KINGWOOD KABARET
"Around the World"
May 2014
Black Box Theatre - Performing Arts Center
Directed by Eric C. Skiles
2012-2013 THEATRE SEASON:
THE GREAT AMERICAN TRAILER PARK MUSICAL
by Nehls & Kelso
October 2012
Main Stage Theatre - Performing Arts Center
Directed by Eric C. Skiles
THE NIGHT OF JANUARY 16th
by Ayn Rand
November 2012
Black Box Theatre - Performing Arts Center
Directed by Eric C. Skiles
NO EXIT
by Jean-Paul Sartre
February 2013
Main Stage Theatre - Performing Arts Center
Directed by Eric C. Skiles
Entry - TCCSTA Annual 2-Year College Play Festival
7th Annual EVENING OF SHORTS
Original One-Act Play Festival
April 2013
Black Box Theatre - Performing Arts Center
Mentored by Eric C. Skiles & Kalliope Vlahos
2013 KINGWOOD KABARET
"Anything Goes!"
May 2013
Black Box Theatre - Performing Arts Center
Directed by Eric C. Skiles
2011-2012 THEATRE SEASON:
THE VAGINA MONOLOGUES
by Eve Ensler
October 2011
Inaugural Show - Black Box Theatre - Performing Arts Center
Directed by Kalliope Vlahos
Entry - Kennedy Center-American College Theatre Festival
PICASSO AT THE LAPINE AGILE
by Steve Martin
November 2011
Main Stage Theatre - Performing Arts Center
Directed by Eric C. Skiles
LITTLE WOMEN: THE BROADWAY MUSICAL
by Knee, Dickstein, & Howard
February 2012
Main Stage Theatre - Performing Arts Center
Directed by Eric C. Skiles
6th Annual EVENING OF SHORTS
Original One-Act Play Festival
April 2012
Black Box Theatre - Performing Arts Center
Mentored by Eric C. Skiles & Kalliope Vlahos
2012 KINGWOOD KABARET
"Nothing But the Classics!"
June 2012
Black Box Theatre - Performing Arts Center
Directed by Eric C. Skiles
2010-2011 THEATRE SEASON: (shortened due to Construction)
THE CHAIRS
by Eugene Ionesco
November 2010
Main Stage Theatre - Performing Arts Center
Directed by Eric C. Skiles
5th Annual EVENING OF SHORTS
Original One-Act Play Festival
February 2011
Main Stage Theatre - Performing Arts Center
Mentored by Eric C. Skiles & Kalliope Vlahos
ASSASSINS
by Sondheim & Weidman
April 2011
Main Stage Theatre - Performing Arts Center
Directed by Eric C. Skiles
2009-2010 THEATRE SEASON: (shortened due to Construction)
GROSS INDENCENCY: The Three Trials of Oscar Wilde
by Moises Kaufman
October 2009
Main Stage Theatre - Performing Arts Center
Directed by J. Stewart Hawley
GODSPELL
by Schwartz & Tebelak
November 2009
Main Stage Theatre - Performing Arts Center
Directed by Eric C. Skiles
STEEL MAGNOLIAS
by Robert Harling
Febraury 2010
Main Stage Theatre - Performing Arts Center
Directed by Eric C. Skiles
MACBETH
by William Shakespeare
April 2010
Main Stage Theatre - Performing Arts Center
Directed by J. Stewart Hawley
2008-2009 THEATRE SEASON:
THE MYSTERY OF EDWIN DROOD
by Rupert Holmes
October 2008
Main Stage Theatre - Performing Arts Center
Directed by J. Stewart Hawley
CANCELED due to Hurrican Ike
ENDGAME
by Samuel Beckett
November 2008
Main Stage Theatre - Performing Arts Center
Directed by Eric C. Skiles
TWELFTH NIGHT
by William Shakespeare
Febraury 2009
Main Stage Theatre - Performing Arts Center
Directed by Eric C. Skiles
Entry - TCCSTA Annual 2-Year College Play Festival
PTERODACTYLS
by Nicky Silver
April 2009
Main Stage Theatre - Performing Arts Center
Directed by Eric C. Skiles
2009 KINGWOOD KABARET
"The Songs That Got Away"
May 2009
Main Stage Theatre - Performing Arts Center
Directed by Eric C. Skiles
2007-2008 THEATRE SEASON: (Kalliope Vlahos joins the LSC-K Theatre Team as Technical Director)
I LOVE YOU, YOU'RE PERFECT, NOW CHANGE!
by DiPietro & Roberts
October 2007
Main Stage Theatre - Performing Arts Center
Directed by Eric C. Skiles
Entry - Kennedy Center-American College Theatre Festival
I LOVE YOU, YOU'RE PERFECT, NOW CHANGE!
by DiPietro & Roberts
November 2007
Main Stage Theatre - Performing Arts Center
Directed by Eric C. Skiles
Entry - TCCSTA Annual 2-Year College Play Festival
INVISIBLE FRIENDS
by Alan Ayckbourn
March 2008
Main Stage Theatre - Performing Arts Center
Directed by Eric C. Skiles
4th Annual EVENING OF SHORTS
Original One-Act Play Festival
April 2008
Main Stage Theatre - Performing Arts Center
Mentored by Eric C. Skiles & Kalliope Vlahos
2008 KINGWOOD KABARET
Inaugural Kabaret Evening
May 2008
Main Stage Theatre - Performing Arts Center
Directed by Eric C. Skiles
2006-2007 THEATRE SEASON:
DADDY'S DYIN', WHO'S GOT THE WILL?
by Del Shores
October 2006
Main Stage Theatre - Performing Arts Center
Directed by Darin P. Garrett
CRIMES OF THE HEART
by Beth Henley
Novebmer 2006
Main Stage Theatre - Performing Arts Center
Directed by Pamela Rosenberger
BABY WITH THE BATHWATER
by Christopher Durang
February 2007
Main Stage Theatre - Performing Arts Center
Directed by Eric C. Skiles
Entry - TCCSTA Annual 2-Year College Play Festival
3rd Annual EVENING OF SHORTS
Original One-Act Play Festival
April 2007
Main Stage Theatre - Performing Arts Center
Mentored by Eric C. Skiles
WIND IN THE WILLOWS
by Grahame, Dramatized by Baldwin
May 2007
Main Stage Theatre - Performing Arts Center
Directed by Eric C. Skiles
2005-2006 THEATRE SEASON:
IN THE COMPANY OF STRANGERS (Original)
by Swift & Swift
October 2005
Main Stage Theatre - Performing Arts Center
Directed by Eric C. Skiles
Entry - Kennedy Center-American College Theatre Festival
THE GIFTS OF THE MAGI
by Courts & Germain
December 2005
Main Stage Theatre - Performing Arts Center
Directed by Eric C. Skiles
THE MUSCIAL COMEDY MURDERS OF 1940
by John Bishop
February 2006
Main Stage Theatre - Performing Arts Center
Directed by Darin P. Garrett
2nd Annual EVENING OF SHORTS
Original One-Act Play Festival
April 2006
Main Stage Theatre - Performing Arts Center
Mentored by Eric C. Skiles
SCHOOL HOUSE ROCK! LIVE!
Based on idea by McCall
TV series created by Newall &Yohe
May 2006
Main Stage Theatre - Performing Arts Center
Directed by J. Stewart Hawley
2004-2005 THEATRE SEASON:
YOU'RE A GOOD MAN, CHARLIE BROWN
From Charles M. Schulz, by Gesner
October 2004
Main Stage Theatre - Performing Arts Center
Directed by Eric C. Skiles
BELLES
by Mark Dunn
November 2004
Main Stage Theatre - Performing Arts Center
Directed by Eric C. Skiles
CHILDREN OF A LESSER GOD
by Medoff
March 2005
Main Stage Theatre - Performing Arts Center
Directed by Darin P. Garrett
1st Annual EVENING OF SHORTS
Original One-Act Play Festival
April 2005
Main Stage Theatre - Performing Arts Center
Mentored by Eric C. Skiles
2003-2004 THEATRE SEASON: (Eric C. Skiles joins the LSC-K Theatre Team as Artistic Director)
NOISES OFF!
by Frayn
October 2003
Main Stage Theatre - Performing Arts Center
Directed by Darin P. Garrett
THE SHAPE OF THINGS
by Labute
November 2003
Main Stage Theatre - Performing Arts Center
Mentored by Eric C. Skiles
THE ROBBER BRIDEGROOM
by Ury & Waldman
March 2004
Main Stage Theatre - Performing Arts Center
Mentored by Eric C. Skiles