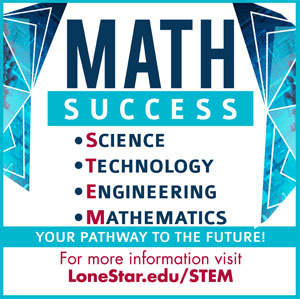 The HSI STEM Grant promotes Math Success and provides a support system that encourages completion and success in Math classes and a smooth transition from LSC-North Harris to STEM academic programs at the University of Houston or other four-year universities. The grant features newly designed Math courses using innovative teaching techniques and cutting edge technology, high quality tutoring services and access to state-of-the-art technology in the Math Achievement Center (MAC), and access to speakers, mentors, and STEM oriented career and college prep events through participation in the Women in STEM group, and much more.
Featured Math Courses
The Math Department faculty has designed innovative, interactive, student-centered Math courses where students can use the latest technology and Math software to complete their assignments. Many of these featured courses also offer one-on-one, in-class assistance from instructors.
Flipped Classroom: A combination of face to face and online coursework. Students watch recorded lectures at home. lecture videos are easily accessible on your iPhone, Android phone, iPAD, etc. Homework, assignments, and labs are completed in class with the instructor who is available to give students individual help as needed. All tests are taken in class with the instructor. This class meets on all assigned days.
ALEKS:
Students meet face to face with an instructor, but class work is completed using a computer program called ALEKS. ALEKS uses artificially intelligent adaptive questioning to find out exactly what the student knows, and designs an individualized learning plan specifically for each student. The instructor is available in the classroom to assist students one on one as needed. All tests (except the final exam) are taken on the computer using ALEKS.
Mathematica Software: Class lessons are lecture based with in-class demonstrations using iPADSs and Mathematica applets. Mathematica is a computational software used in scientific, engineering, and mathematical fields. It allows students to manipulate and solve problems with computer code. Lectures are enhanced by lab and home assignments using the Mathematica computer software.
Maple Software/Flipped Classroom: A combination of face to face and online coursework. This software enables students to visualize mathematical concepts and to investigate and solve problems that would be difficult to solve by hand. Students watch videos with lectures and embedded with animation from Maple. Labs and homework are completed in class with computers and instructor guidance. This class meets on all assigned days.
Online Math Courses: The entire course is offered online. All exams are proctored and must be taken on campus.
Several Math 0310 (Intermediate Algebra) and Math 1314 (College Algebra) featured courses are now available in the Summer 2013 schedule. More of these featured courses, including brand new sections of Math 1316 (Trigonometry) and Math 2412 (Pre Calculus) are available in the Fall 2013 schedule.

For more information about the HSI STEM Grant Math courses and activities, please contact Sylvia Martinez at Sylvia.M.Martinez@lonestar.edu or call 281-765-7806. You can also stop by our office in the Winship Building, in WNSP 166.