Students & Parents
If All Roads Lead to College, Why Settle For Just One? 
Lone Star College System promotes a comprehensive approach toward education. Depending on your academic and career goals, a combination of Advance Placement, articulating and dual credit courses could shorten your time in college by one year. Review the opportunities for college credit in high school and discover which one, if not all, is right for you.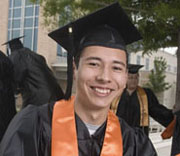 Eligibility Requirements
 ALL
eligibility requirements must be met in order to receive credit. Visit a LSCS advisor for help determining whether you meet the requirements listed below:
Texas high school graduate
Complete 6 credit hours of non-developmental LSCS college courses   

**Exception: 

Articulation for RNSG 1105 requires 10 credit hours instead of 6, along with admission to the Nursing Program
Request credits within 15 months from the day of high school graduation  

**Exception:

Students admitted to the Nursing Program have 36 months from the day of high school graduation to apply for PLA credit.
Complete at least one articulating course during junior or senior year of high school
Grade average of 80 or more on all articulating high school courses 
Complete prerequisites for any college course you are requesting articulated credit toward  
OFFICIAL transcript on file with LSCS admissions 
If eligible, submit a completed
application
for Prior Learning Assessment by High School Articulation to an advisor along with your official high school transcript. 
AAS to Bachelor Degree
Associate of Applied Science (AAS) degrees CAN lead into bachelor degree programs at a number of universities. With university articulation agreements, students can pick up right where they left off to earn a bachelor degree. Visit AAS to Bachelor Degree to view an abbreviated list of university partners.  
Questions or Concerns? Contact Educational Partnerships