Studying Abroad in Italy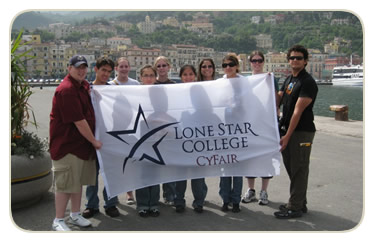 Viva Italia! Each summer a group of LSC-CyFair students go abroad to explore ancient Roman culture and Europe's most famous volcanoes with LSC-CyFair Professors Buck Buchanan (Geography) and Rob Coyle (History).
Through the professors' travel blogs, hear from each student as they work on one of the Stabian villa archeology projects and visit Pompeii, Herculaneum, various sites/museums in Naples, Capri, Amalfi, Paestum, Mount Vesuvius, Monte Faito and Sorrento. They also have trips planned to the Vatican, the Roman Fora, and Tuscolo.
Their home base is at the Vesuvian Institute of the Restoring Ancient Stabiae Foundation (www.stabiae.org) in Castellammare di Stabia.
Pictured to the right are LSC-CyFair students at the waterfront in Castellammare di Stabia, Italy.


Buck Buchanan
Professor of Geography Previous study abroad blogs from Buck:
Summer 2008
Summer 2007 FIE Grant

Rob Coyle
Professor of History Previous study abroad blogs from Rob:
Summer 2008
Summer 2007 FIE Grant


Does this sound interesting to you?
Join us for future study abroad opportunities in Italy and other exciting locations. Read more. >>

Did you enjoy reading about these adventures? There are even more travel blogs for you to enjoy! >>