Tennis Team
Our Mission Defined
The LSC-CyFair Tennis Team was formed as an outlet for students to participate in individual sports, develop social skills, engage and demonstrate sportsmanship both on and off the court, have fun, be physically active, and play inter-league matches against other clubs and colleges. Our focus for our program truly emphasizes having fun and giving back to the community.
We were chosen as Club Tennis Team of the Year in the state of Texas for the 2008-2009 academic year.
Qualifications and Restrictions
No member is required to be enrolled in a tennis class and/or any other specific class.
All members must meet all of the following requirements:

You must be enrolled in a minimum of 6 credit hours at Lone Star College-CyFair
You must maintain a 2.0 or higher GPA
You cannot be on academic probation.
Next Tryouts: Thursday January 8th, 2015 from 4:00-6:00 PM
We will meet in the Fitness Center for the first tryout.
Please bring tennis shoes, tennis racket and WATER. If you do not bring water you can not tryout.
Practice Schedule
Any and all prospective members should contact Coach Jonathan Williams if interested in joining the Tennis Team. The time, date, and place of regular practices/meetings is always determined by the majority of the membership at the first regular meeting of the term.
Practice is every Monday, Tuesday and Thursday from 4:00 pm - 6:00 pm
Fall 2014 Tournament Schedule
Game
Date, Time, and Location
Lone Star Conference-Duel Team Match
Saturday, September 27
Sam Houston State University
Lone Star Conference-Duel Team Match
Saturday, October 25th
Lee College
Lone Star Conference- Duel Team Match
Saturday, November 8th 
LSC-Montgomery
LSCS Conference Tennis Tournament
Saturday, November 15th
LSC-Montgomery
CyFair Invitational
 Friday and Saturday, November 21st & 22nd
LSC-CyFair
Competitions Overview
The Tennis Team competes throughout the state of Texas and the United States in order to promote tennis competitions at other two-year colleges, such as other Lone Star College campuses and the Houston Community College, and four-year institutions like the University of Houston, Rice University, Texas A&M University, University of Texas, Houston Community College, and Baylor University.
The LSC-CyFair Tennis Team is exceptionally committed to building on past mistakes and demonstrating to its members that everyone is a winner as long as they give it their best and have fun. Whether you enjoy competing against schools in Texas or in the occasional National Competitions, this team offers a variety of ways to challenge its students to strive for excellence.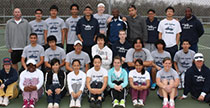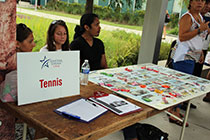 Contact the Tennis Team
Jonathan Williams
Phone: 281.290.5213