LSCS Presidents
|
LSC-Tomball President
|
College Relations
|
College and Community
|
LSC-Tomball Holiday Fest 2013
Please Note:
This year's Holiday Fest will take place inside due to expected weather conditions
.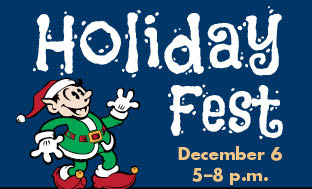 LSC-Tomball's annual free winter festival for the community, Holiday Fest, returns this year with seasonal fun for the family.
When: Friday, December 6, 5 - 8 pm
Where: LSC-Tomball Beckendorf Conference Center
Events: Photos with Santa • Children's games and crafts • Live performances • Free Snacks
Food: Hot dogs will be available for $1 and soda will be available for 50 cents.
Questions: Call 281.357.3608.
Donations: We will be accepting donations for both Boys and Girls Country as well as local nursing homes. Please bring unwrapped items to the Donations table near the entrance to Holiday Fest. See the lists below for specifically requested items

Boys and Girls Country Donations
---
Requested Food Items
Requested Gift Cards



Stuffing Stove Top
Turkey Gravy
French Onion Soup Packets
Sugar
Nacho Chips
Popcorn boxes of 3 (88c ) Wal-Mart
Powder Sugar
Granola Bars
Pop-Tarts
Fruit Snacks
Capri Sun
Canned Chicken
Ranch Dressing

*Gift cards are used as treats, rewards, and incentives for Boys and Girls Country residents

Academy • Kohl's • AMC Theaters • Macy's • American Express • Memorial City Mall • Barnes and Noble • Men's Wearhouse • Best Buy • Michael's • Border's • Old Navy • Burlington Coat Factory • Palais Royal • Chick-Fil-A • Ross • Chili's • Sonic • Cinema 6– Tomball • Sports Authority • Cinemark • Subway • DSW • Target • Famous Footwear • TGI Friday's • Fuddrucker's • TJ Maxx • Hobby Lobby • Visa • James Avery • Wal-Mart • JC Penney's • Woodlands Mall
Local Nursing Home Donations
---
socks
blankets
throws
unscented lotions
toiletries such as toothbrushes and toothpaste