LSC-Tomball Academic Initiatives and Partnerships
Welcome to the Academic Initiatives and Partnerships Department at Lone Star College-Tomball. We oversee and coordinate efforts for our Early College High Schools, Dual Credit and Home School programs, Pathways, Grit initiatives, Community U, Summer Bridge, The LSC-T Experience, and more.
2017-2018 at a Glance
The 2017-2018 academic year was the first year for this department. Watch the video below that highlights some of the things we were able to accomplish.
Meet Our Department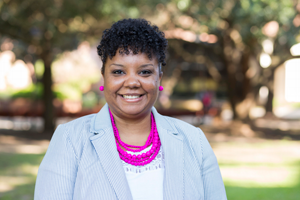 Latoya Hardman Lewis currently serves as the Interim Director of Academic Initiatives and Partnerships at Lone Star College-Tomball. Prior to serving as the Interim Director, Latoya was Professor of Education and Lead Faculty for the Associate of Arts in Teaching Program.
Latoya has 13 years of experience in education. She was a high school English teacher in Harlem, NY and later at Klein Forest High School, which is her high school alma mater. She entered higher education as an adjunct instructor in 2008 and joined Lone Star College-Tomball full time in 2011. Latoya has taught both face-to-face and online courses in Developmental English, First Year Experience, Introduction to Teaching, and Introduction to Special Populations.
In addition, Latoya is the creator of the Instructional Technology Certification Program at LSC-Tomball, which was designed to teach college instructors how to infuse technology into their classrooms. By the end of the ten sessions, participants learn how to create engaging presentations and other learning materials, find and create instructional videos, and how to use social media in the classroom. Latoya also designed Lone Star College-Tomballís TEaCH Lab. This is a model classroom for students in the AAT program that is equipped with some of the latest educational technology and furniture that allows for flexibility and mobility within the classroom.
---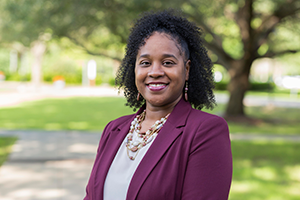 Katerina Wingfield serves as the Program Manager for Articulation and Dual Credit at Lone Star College-Tomball. In addition, Katerina also serves as an Adjunct Professor at the Lone Star-Tomball campus.
Katerina has 17 years of experience in education. She has a wealth of knowledge in assisting students in their journey of academic success and advancement. She began her career in higher education as an academic advisor. She later moved in a full time instructor position at Norfolk State University in Norfolk, Virginia. Upon relocating to Houston, Katerina served as an academic counselor with the University of Houston-Downtown. Her career shifted to secondary education after that experience and she spent 9 years serving in multiple roles such as business teacher, department chair, and program coordinator for Klein and Spring ISD. Katerina currently teaches online and face-to-face courses in First Year Experience in addition to her duties as Program Manager.
---
Donna Fitzpatrick is the Staff Assistant in the Academic Initiatives and Partnerships department here at Lone Star College-Tomball. Prior to her new position she served under Dr. LeeAnn Nutt as Staff Assistant for two years. She also assisted in the Arts, Business, Behavioral Sciences, and Social Sciences department for two years prior to moving to the Presidentís office.
When Donna first stepped foot on the Lone Star College-Tomball campus she worked as Assistant Store Manager at the Follett Campus bookstore for six years. There she was able to train and manage student workers along with assisting students by means of purchasing the necessary items to help the students be successful.
In addition to working here at Lone Star -Tomball, Donna has recently accomplished a long-time dream with completing her Associates Degree this past May. Now, it is on to her Bachelorís degree in Sociology at SHSU. She is happily married and is the mother of six grown children.
MISSION
To develop, implement, and oversee any resources that support true access to education for current and prospective students.
VISION
To ensure that all students have access to an education that transforms dreams from abstract concepts to realities.
PURPOSE
AIP connects current students to resources, connects future students to the LSC-Tomball experience, connects all college P20 initiatives to each other, and ensures that grit is infused in all of these connections.
VALUES
Access-Discovery-Empowerment-Opportunity-Collaboration-Community-Connection-Empowerment-Innovation-Excellence-Leadership-Learning-Vision