LSCS Presidents
|
LSC-Tomball President
|
College Relations
|
Do the Math: Why LSC-Tomball?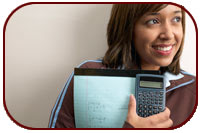 When you do the math, there is no question that LSC-Tomball is the smart choice. Compare the numbers and you'll see that you can't beat LSCS when it comes to affordability.
Affordable Tuition
LSCS provides the highest education possible for the lowest tuition possible. Our tuition rates are based on residency and you can get an estimate of your costs by viewing our tuition tables. If you need help footing the bill, financial aid is available to most students. And so are payment plans!
View the current Lone Star College System Tuition Tables



Compare LSCS to Other Texas Colleges
With higher education costs on the rise, Lone Star College System is one of the most affordable options today to earn a college degree, certificate or continuing education hours
Compare the cost of LSCS to other Texas universities
Financial Aid
Don't let money keep you from pursuing your goal of a higher education or from improving your life by acquiring a workforce skill. Speak with our financial aid advisors about what options might be available to you.

Vist our Financial Aid site for more information