LSC-Tomball Star of the Month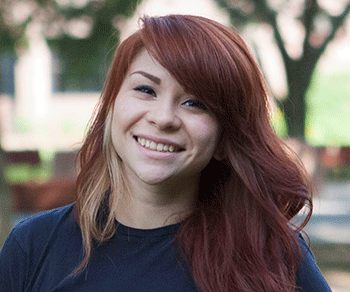 Ever since Gabriella "Gabby" Bazan first took art classes in high school, she has known she wished to pursue a career in art. Prior to her anticipated plans to transfer to the University of Houston this fall to earn her bachelor's degree and educational certification, she decided to begin her college experience with the Lone Star College System. "Starting off at a community college, yes, saves you money, but it really helps you establish a feeling of freedom and independence," she said.
She began taking classes at Lone Star College-Tomball in fall 2012. She soon ran into Gary Cooper, her former theater teacher at Klein Forest High School who now works as the manager for the LSC-Tomball Performing Arts Center (PAC). Gary encouraged Gabby to apply for a job in the PAC as a part-time box office and house manager. "I can't tell you how much I've learned in that job," Gabby said. "I now know how to do lighting, sound, a lot of the fly system. Plus, I discovered the theater program here, which is awesome."
Gabby become very involved in technical theater and was recognized as 'Superior' at the Texas Community College Speech and Theatre Association State Play Festival for her creation of a stained glass window on the set of "The Runner Stumbles."
Gabby decided to return to LSC-Tomball for her last semester because, she said, "I like the incredible community here." Hoping to teach middle school or high school art and influence students in the way that she was influenced, Gabby will focus on acrylic paint or water color painting. Her advice for those entering college draws right from her own experience. "If you are planning on starting here and then transferring, plan ahead and make sure your classes will transfer to the school you will transfer to," she said. "Plan ahead," she reiterated. "Also, get involved outside of class. It made the difference for me."
---
If you would like to nominate a Star at LSC-Tomball, please e-mail TomballCollegeRelations@LoneStar.edu. Briefly explain why this person is a Star and include the nominee's phone number and e-mail address.