Greater North Houston Music Festival
Attention Directors: Please find the day-of forms you need on our Forms Page.
On Tuesday, April 11, 2017, the Lone Star College-Tomball Music program will host the first annual Tomball Choral Festival for area K-12 choirs.
The Greater North Houston Choral Festival is sponsored by Lone Star College-Tomball. The mission of the festival is to 1) showcase the work of dedicated music educators and students 2) provide a positive environment in which to perform and receive feedback 3) bring together the community of music educators in the region for collaborative ventures and idea sharing.
Register Now
Please fill out the registration form by clicking the link in the box to the left.
Entry Fees
The entry fee for each ensemble is $150 and includes a recording. Once you submit the online registration form and receive a confirmation email, please print the confirmation email and mail it along with a check for your entry fee to Dr. Lisa Morales, LSC-Tomball, 30555 Tomball Parkway, Tomball, TX 77355.
Multiple Entries
If you need to register more than one choir, please fill out the online form and click submit. Then, revisit the registration page to fill out the form for any subsequent entries.
Requirements
While the Greater North Houston Music Festival utilizes UIL guidelines, please remember that this is a festival. In the spirit of festival, we reference UIL practice a bit more flexibly. For choral participants, we ask that entrants present 3 pieces of contrasting styles. Each participant will be assigned a 30 minute time slot – 30 minutes total includes a recommended 4-7 minute warm-up onstage, followed by 15-20 minutes for performance.
Volunteer Opportunities
This festival is made possible through the work of dedicated volunteer staff – if you would like to volunteer to help, please contact Melissa McDonough – if you need community service hours, the festival director can provide documentation.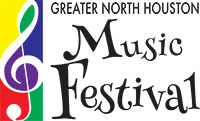 Festival Personnel
Dr. Lisa Morales
Fine Arts Department Chair
281.401.1845
Melissa McDonough
Festival Director