Meeting & Conference Services
Looking for a unique meeting facility?
Imagine attending a business professional development or training meeting hundreds of miles away without leaving your home town. LSC-University Center offers the use of information technology, interactive systems and telecommunications for the delivery of instruction and interactive communication. Through a series of television monitors at each teleconferencing site, cameras follow the guest speaker and focus on individuals in attendance - and microphones transmit the speaker and allow attendees to participate in the discussion as well.
Some of the most successful U.S. corporations and companies abroad are practicing interactive communication and the entire concept of distance learning. It makes total sense for corporations to embrace this form of information sharing to transact daily business on a global basis.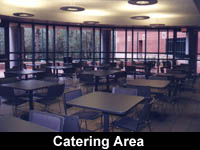 LSC-University Center also offers regular meeting rooms, a tiered lecture hall, work space for meeting coordinators, plus kitchen and catering areas. Room capacities range from ten to eighty-four, although seating arrangements and interactive connectivity may provide for increased capacities.
Who We Are...
LSC-University Center is an alliance of six universities, the Lone Star College System and the private sector. Its mission is to provide bachelor's degrees, master's degrees and continuing studies to the more than one million people in the college system service area.

General Information
Please call in advance (936.273.7513) to reserve space to enable us to best serve your needs.
Use the online Conference Query form to request more information.
Parking at The University Center is available on a first-come basis at no charge.
Ample lighted, patrolled parking is available.
The facility is open from 7AM to 10PM weekdays and flexible weekend hours.
Guests should bring their own supplies such as pens, pencils, paper, flip charts, markers, and nametags.
We offer an indoor, smoke-free environment and one designated, outdoor smoking area.
Clients may make their own catering choices and arrangements.
Professional training, development and education events only.
Plan for "Same Day" set-up and take-down of all equipment, exhibits or displays.
Download our Conference Services Brochure (PDF)