LSC-University Park History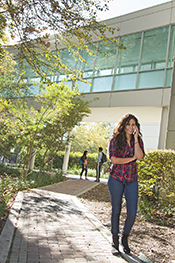 Opened in January 2010, Lone Star College-University Park is the sixth and newest campus in the Lone Star College System. With approximately 1.2 million square feet of operational space, LSC-University Park houses academic classrooms and offices, full-service conference facilities, and first-class commercial leasing opportunities. Located on 71 beautiful acres complete with sky bridges to connect buildings, this campus is truly the college of the 21st century. Its unique design inspires students daily by providing unlimited opportunities for new and innovative programs.
In 2007, community leaders approached LSCS requesting that a new university center be established in the northwest Harris County area.
In April 30, 2009, LSCS purchased five major office buildings and support facilities on the grounds of the former Compaq Computer Corp. and Hewlett Packard's world headquarters—and the vision for LSC-University Park was born. The acquisition would provide the surrounding area with a much-needed affordable college facility and allow LSCS to establish a new university center. According to a May 20, 2009 Wall Street Journal article, "The deal was the second-largest U.S. office transaction so far this year, based on square footage, after Boston's 1.8 million square-foot John Hancock tower…."
LSC-University Park was renovated from a corporate to college facility and opened its doors to students for its first semester in January 2010 as a satellite campus of LSC-Tomball. Today, LSC-University Park enrolls more than 5,500 students, employs 25 full-time faculty members and 166 adjunct professors, and is home to one of two Lone Star College University Centers – all in one convenient location. Along with the partner universities, the college offers 59 career programs, including agriculture, biotechnology, computer information technology, geology, journalism, law enforcement, nursing, philosophy, physics, sports management, teacher certification, veterinary technology and more. LSC-University Park provides numerous opportunities for students to earn college credits through traditional and alternate scheduling. Mini-mesters permit students to take a typical 16-week course in three or four-weeks. The weekend college allows students to earn credits and degrees, including an A.A. in business or teaching by taking weekend courses online, face-to-face or hybrid.
The LSC-University Center at University Park also offers junior, senior and graduate-level classes through its university partnerships with four highly-regarded academic institutions in the Houston area: Sam Houston State University-Northwest Houston Campus, Texas Southern University-Northwest Campus, University of Houston-Northwest Campus, and University of Houston-Downtown-Northwest. Students who enroll with one of the partner universities on-site are able to complete a bachelor's or master's degree (or teaching certificate) without traveling to the university home campuses. The LSC-University Center model provides LSC-University Park students with a seamless transition process from the two-year college to a four-year university. Joint admission programs, such as the 2+2 program, allow students to take their first two years of classes at LSC-University Park and then the second two years of upper-level courses at one of the four partner universities, without having to reapply.
This learning space of the future includes partnerships unique to LSC-University Park. iSchool High, a public, early college, charter high school adheres to the college's mantra of providing diverse opportunities and challenges. At iSchool High, students can earn their high school diploma and up to two years of college credit.
Lone Star Corporate College and the Lone Star Conference Center are on site as well. The Corporate College partners with Houston-based, global corporations to identify and meet their workforce training needs. The Lone Star Conference Center boasts 19 meeting rooms, exhibition space and state-of-the-art technical support.
LSC-University Park's first chief executive officer, Penny Westerfield, was appointed in December 2009 by Chancellor Dr. Richard Carpenter. Westerfield brought with her 30 years of administrative experience within the college system making her an asset for the startup of the new campus. In September 2012, Westerfield passed the torch to Shah S. Ardalan, who was named the first president of LSC-University Park. Ardalan's experience in educational and executive roles and proven academic track-record made him a perfect candidate to lead LSC-University Park into the 21st century.
Since its opening, LSC-University Park has received national recognition for its innovative programs while attracting, retaining and inspiring students from all over the world. LSC-University Park has kept its promise to the community to become a leading model of the "innovative college" for the 21st century by redefining complete and affordable access to quality education through partnerships, entrepreneurship and community enrichment.