Lone Star College is implementing a Fast Track - Engineering Technician Marketable Skills Award certification program for veterans and service members to prepare them to work in high-demand engineering and technology positions in the oil and natural gas industry.
What is a field service technician?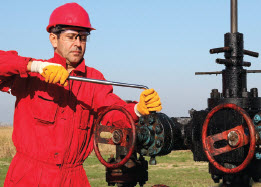 Men and women working as Field Service Technicians complete highly technical tasks that require advanced training and knowledge. Due to the advancements in electro-mechanical systems, interdisciplinary fields are rapidly developing to address the design, operation and maintenance of products and systems that require a working knowledge of both mechanical and electronic components.
A field service technician installs and maintains oil field service equipment, instrumentation, controls, and electromechanical systems. After completing the Field Service technician certificate, a student can choose to enter one of two certificate/degree tracks.
Please complete and submit this form and an LSC Veterans Specialist will contact you within 48 hours.