LSC-Montgomery Visual Communications Department
(Computer Graphics Arts Technology and Interactive Media)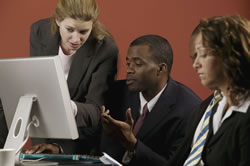 These programs are designed to prepare students for careers in commercial art and design with state-of-the-art technologies, and the rapidly emerging occupations of interactive media such as web and multimedia development.
Working closely with local business certificates and degrees have been developed to prepare students for entry-level careers in the visual communications field.
Student in the computer graphic arts program use the computer to generate imagery in marketing pieces and other forms of visual communications. Specific applications incorporate extensive problem solving from initial concept to the final product using layout, paste up, copy sizing, type, drawing, image manipulation, scanning, and color separations. Graphic creation, illustration, and design principles are taught for multiple mediums.
Students in the interactive media program use the computer for web page design, 3-D animation, multimedia development, video and post-production. The demand for these skills comes from a variety of industries including advertising, consumer products, entertainment, and more.
You can review the Visual Communication Syllabi.