2012 Conference Highlights
Keynote Speaker: Lois Frankel
President of Corporate Coaching International, and Bestselling Author of "Nice Girls Don't Get The Corner Office" & "Nice Girls Don't Get Rich"

About Dr. Frankel's presentation: Dr. Lois Frankel, author of international bestsellers such as Nice Girls Don't Get the Corner Office and See Jane Lead, will wrap up our day with her high energy, high participation endnote presentation, "Unleashing the Leader in You." She will begin with the premise that women lead all the time – they just don't call themselves leaders! Then, Dr. Frankel will make the case for why there has never been a better time than the present for you to step up to the leadership plate, illuminate ways in which you may be unconsciously sabotaging your career, and provide practical suggestions for how to become the leader you were destined to be. Whether you lead a project, a department, a company, or a team of volunteers, you won't want to miss this engaging, entertaining, and educational talk by the woman who literally wrote the book on how to succeed in business.
For more information on Dr. Frankel, read her bio.
Dayna Steele, Radio & TV Personaltiy, Author
Session: Rock Your World: Everyday Activities for Everyday Success… Guaranteed!

Dayna Steele is a nationally recognized radio and TV personality and the author of the best-selling business book, Rock to the Top: What I Learned about Success from the World's Greatest Rock Stars. She has been named one of the '100 Most Important Radio Talk Show Hosts' by Talkers Magazine, was nominated as 'Local Radio Personality of the Year' by Billboard Magazine, and Reader's Digest named her one of the '35 People Who Inspire Us.'
An in-demand motivational business speaker who AOL calls 'one of the foremost experts on career networking', Steele is currently traveling the world with her presentation, "Find Your Inner Rock Star," showing individuals and companies how to grow their business and be better than the competition using her "Rock Star Principles." Some of her clients include NASA, University of
Texas, Christus Health, American Marketing Association, Institute of Real Estate Management
and many more.

Steele is a member of the National Speakers Association, Screen Actors Guild and American Federation of Television and Radio Artists. She is a Texas Radio Hall of Fame inductee, serial entrepreneur, media and marketing strategist and FastCompany blogger.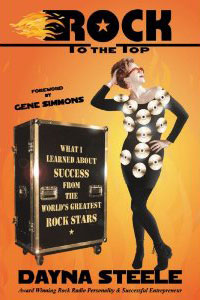 Steele lives in Seabrook, Texas with her husband, author Charles Justiz, and their three sons. She is currently working on her next book, I'm With the Band: Networking Rock Star (Network Your Way into Anything, Anywhere, Anytime!). Dana Steele's book, Rock to the Top: What I Learned about Success from the World's Greatest Rock Stars, is for sale on Amazon.com
B. Candace Beeke, Editor at Houston Business Journal
Session: Networking

B. Candace Beeke is the editor of the Houston Business Journal, one of the nation's oldest business-to-business news publications. She also serves on the conference board of the Greater Houston Women's Chamber of Commerce.
A graduate of Western Michigan University, Beeke has a bachelor's degree in public relations and a minor in journalism. She began her career as a reporter for Business Direct Weekly and ascended through the ranks, becoming editor of the publication, the newly titled Business Review West Michigan. The WMU alum also served as an adjunct faculty member at her alma mater, teaching basic and advanced journalism courses from 2003 through 2010.
Beeke is a self-described gardener, as well as a lover of food and wine. She and her husband, Ben, are the proud parents of three children: Lily, 9; Jack, 7; and Harper, 2.
Luke Quanstrom, Social Media Strategist
Session: Developing a Social Presence

Luke Quanstrom is a social media strategist at [wire] stone, where he leads social engagements across a variety of business-to-business and business-to-consumer brands including ConAgra, Northwestern Memorial Hospital, FTD, A.C. Moore, and Health and Disability Advocates. With an innate understanding of consumer use patterns and a comprehensive understanding of social media properties, capabilities and innovative applications, Luke is able to deliver social solutions that help brands connect and engage their consumers.

At [wire] stone, Luke's responsibilities include social media market planning, social brand platform development, organizing and empowering organizations for social media, content integration and planning, community management strategies and best practice consulting.

Prior to [wire] stone, Luke was the Director of Marketing for Admissions at Olivet Nazarene University where he oversaw the recruitment marketing efforts of the university. It was here that Luke began to recognize the power of social engagement marketing and social CRM in nurturing relationships with prospects and driving conversion.
Luke received a B.A. degree in marketing from Olivet Nazarene University and an MBA degree in integrated marketing communications from DePaul University.
About Luke's presentation: Getting started and getting ahead doesn't happen based on a resume alone. The permeation of social technologies has afforded new opportunities (and threats!) to ensuring successful mobility of both personal careers and business goals. In this session, gain valuable insight into some of the best practices for optimizing and advancing your personal brand; from privacy to positioning. Then, we'll take these learnings to understand how social media can be used to grow your business, how to start, maintain and measure your efforts in social media. Activities will include; analysis of two (2) attendee businesses, real-time analysis of attendee examples, social technographic analysis, and goal-setting priorities. Plus, stay for the after-conference reception to take advantage of some one-on-one dialogue as Luke offers personal advice, tips and tricks tailored to your needs.
Britt Kornmann, CRPC®, AAMS® , Branch Manager, Financial Advisor
Session: Balancing Financial Solutions, Strong Women & Powerful Financial Strategies

Britt has a partner and resides in Houston, TX. She has been a Financial Advisor with Ameriprise Financial since 2005. "Balance is a constant focus. It's what allows me to be a productive leader, partner, colleague, athlete, and philanthropist. Without balance, it's hard to enjoy the day to day victories and challenges that mean the most."
About Britt's presentation: During this seminar, you'll learn ways to gain control over your financial situation, protect the people and things you love the most, and how to make informed financial decisions. Britt will help you learn more about your options in managing your financial resources and give you straightforward guidance on personal money management and investment strategies.