Discovery College: LSC-Montgomery
Registration Going on Now!
Discovery College at LSC-Montgomery provide a safe and fun "college experience," giving students and their families a comfortable introduction to their local Lone Star College campus.
General Information

Camps run weekly Monday through Thursday.
Half day sessions are only $97!
Discovery College programs are STEM-focused, meaning that they are specifically designed to engage your child in key areas like science, technology, engineering and math to promote a true learning experience.
For a full list of classes visit the LSC-Montgomery Camp Schedule.
Lone Star College only hires the most qualified instructors for Discovery College, whether they are one of our incredibly talented college faculty members or one of our community's best K-12 educators, professional artists or performers.
Student and parent evaluations are used for every Discovery College session to ensure that Lone Star College is offering the most relevant and exciting programs possible.
Drop Off and Pick Up Times and Location
The drop off and pick up location for LSC-Montgomery is at the parking structure in the west parking lot. Follow the signs. (NOTE: on Mondays only, parents must drop off their campers in Building A/The Commons.)
Afternoon Sessions
Dedicated staff will greet students starting at 12:45 p.m. and will begin releasing students at 4:50 p.m. Participants must be picked up after classes by 5:30 p.m.
LSC-Montgomery, 3200 College Park Drive, Conroe, TX 77384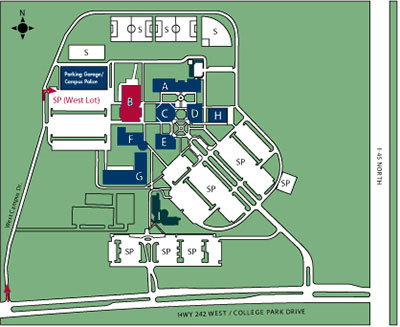 A: Commons Building
B: Health Science Center
C: Student Services Center
D: Performing Arts Center
E: Administration Building
F: Library Building
G: General Academic Center
H: Music Hall
I: LSC-University Center
S: Sports Fields/Courts
SP: Student Parking