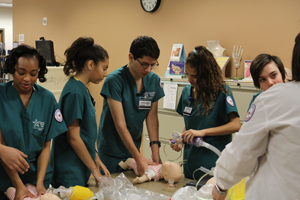 TOMBALL, TX – Klein High School Student Erica Coleman has always wanted to work in the medical field, a profession that would afford her the opportunity to help save lives. In fact, she was inspired years ago when her older brother was diagnosed with kidney cancer and beat it.
Coleman was one of several dozen students in attendance during the Inaugural Klein Innovation Tour highlighting a new partnership between Klein ISD and Lone Star College-Tomball called the Advanced Nursing Pathway. According to the Texas State Board of Nursing, the program is the first of its kind.
Students enrolled in the program have the opportunity to obtain an Associates of Arts degree and a nursing assistant certificate along with their high school diploma. The program began in August 2017 with three cohorts, consisting of approximately 80 students. Candidates had to apply and be accepted to the pathway program via an application process that included student and parent components as well as a student essay and interviews. Health care certifications and licensures are built into the pathway and, upon completion, students will be eligible to obtain the first level of the Certified Nurse Assistant (CNA) certificate before high school graduation.
Students attend the Klein High School campus for their freshman and sophomore years with the opportunity to complete up to fifteen college credit hours during that time. Over the course of their junior and senior years, students will engage in learning at the LSC-Tomball Health Science building and will receive clinical learning experiences at partnering hospitals.
"My brother beat cancer. He is a student at Texas Tech, and being accepted into the pathways program has confirmed that this is the field I want to be in," said Coleman. "My first goal is to become a Licensed Vocational Nursing (LVN). I'm on track to accomplishing that goal."
After high school graduation, students may continue in the pathway at LSC-Tomball to work toward their vocational nursing certificate, and can eventually get their Associate of Applied Science degree in Nursing and become eligible to license as a Registered Nurse (RN).
The program provides a way for students interested in the nursing field to receive hands-on laboratory, classroom and clinical facility rotations. The pathway allows these students to build a strong foundation for a nursing career right after high school.
"I'm really excited about this program," said LSC-Tomball Dr. Lee Ann Nutt. "The success of this program will likely be the model for nursing pathway programs for the State of Texas."
LSC-Tomball Nursing Department Director Catherine Gray said the program gives those who enter it a great way to enter the nursing field. Gray, who started her career in 1970 as a surgical technician to put herself through nursing school, said she wish something like the Advanced Nursing Pathway program was available back when she was starting out.
"There are so many avenues in which people can go in this field and this program gives them a great start," said Gray. "I've been a United States Navy Nurse, and have worked in many different areas in nursing from nurseries to geriatric units and this field even provides opportunities outside of health care like insurance work and legal consulting. The higher you go with your education, the more opportunities are open for you. For me, as director, I want to mold students entering this program into being caring and compassionate nurses. This is also a huge component, because if you're not caring, nothing else matters. I look forward to helping students reach their goals and become the best that they can be."
Lone Star College-Tomball is located at 30555 Tomball Parkway, at the intersection of SH 249 and Zion Road. For more information about the college, call 281.351.3300 or visit LoneStar.edu/Tomball.
[Digital photo available: Cutline – "LSC-Tomball Advanced Pathway students train using simulation equipment at the LSC-Tomball Health Science Building."]
-30-
Known for its leadership, innovation and steadfast commitment to student success, Lone Star College provides high-quality academic transfer and workforce education/career training programs to more than 83,000 credit students each semester, and a total enrollment of 95,000 students. LSC is training tomorrow's workforce today and redefining the community college experience to promote student success and economic prosperity. Stephen C. Head, Ph.D., is the chancellor of LSC, the largest institution of higher education in the Houston area, which consists of six colleges, eight centers, two university centers, Lone Star Corporate College and LSC-Online. To learn more visit LoneStar.edu.