Department of Emergency Preparedness

Hurricane season runs June 1 – November 30. We want you to be prepared, both at work and at home. Please take the time to review these valuable resources to keep your family safe and prepared:
Emergency Communications
Depending on the type of emergency, we may use some or all of the following tools to communicate with faculty, staff and students:
Reporting An Emergency
Call X5911 or 281-290-5911
(for campus emergencies)
Call 9-1-1
(for medical or fire emergencies)
When You Call for Assistance:
Give your name, location, and phone number.
Describe what happened.
Do not hang up until asked to do so.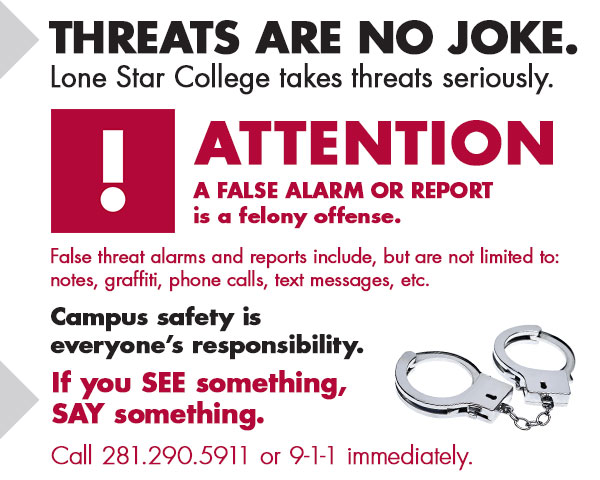 Threats Are No Joke
Lone Star College takes threats seriously. A false alarm or report is a felony offense. False threat alarms and reports include, but are not limited to:
Notes
Graffiti
Phone Calls
Text Messages
Campus Safety is everyone's responsibility. If you see something, say something. Call 281.290.5911 or 911 immediately.
Emergency Preparedness Resources
Safety Topics & Resources:
Make LSC part of your story.