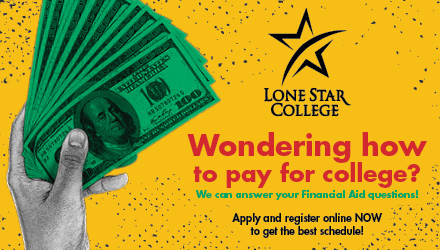 Join us for our inaugural Stop-In Days! For your convenience, we have coordinated labs, workshops, and staff to assist you with your transition back into Lone Star College.
Who: Prospective Lone Star College Students
What: One Stop Shop for Financial Aid and Enrollment
When: June 19-22
Where: Lone Star College Campuses
Why: Learn about programs available and opportunities to pay for your classes at Lone Star College.
Financial Aid Workshops
There is no need to feel anxious about completing the FAFSA! During Stop-In Week, our financial aid specialists will provide an interactive workshop that discusses types of financial aid including grants and scholarships you may qualify for from Lone Star College. In addition to completing the FAFSA, you will also review your responsibilities in order to keep financial aid. Remember, you can also complete your financial aid information online through the Department of Education.
Advising
During Stop-In Week, you can meet with academic advisors to discuss your intended major, select classes, and build a roadmap for academic success. Review our programs of study to begin researching the best path for you. Take a look at our class offerings, so you can bring any questions you may have to the lab.
Scholarship Applications
Scholarships are awarded based on various criteria (usually reflecting the values and purposes of the donor of the award). Scholarships can be based on merit, need, demographics, or career focus. Scholarships are often called "gift aid" because they do not need to be repaid.
Grants
Grants include money set aside by both the state of Texas and the federal government for students who need it to pay for college. The most common federal education grant is the Pell Grant. Grants are based on need and are often called "gift aid" because they do not need to be repaid.
Make LSC part of your story.