CELEBRATION CIRCLE 2020-2021

Lone Star College Foundation is honored to partner with members of Celebration Circle!
Thank you to the donors featured on this page for their loyal support of LSC Foundation's premier fundraising events: the 27th Annual Drive for Scholarships Golf Tournament on Monday, November 16, 2020, and StarGala on Saturday, April 10, 2021. Through their generous, year-round support, members of Celebration Circle are making students' dreams of a college education COME TRUE, which in turn enhances the local workforce and makes our community a better place to live and work.
For more information on joining Celebration Circle, contact the Foundation Office at 832.813.6592.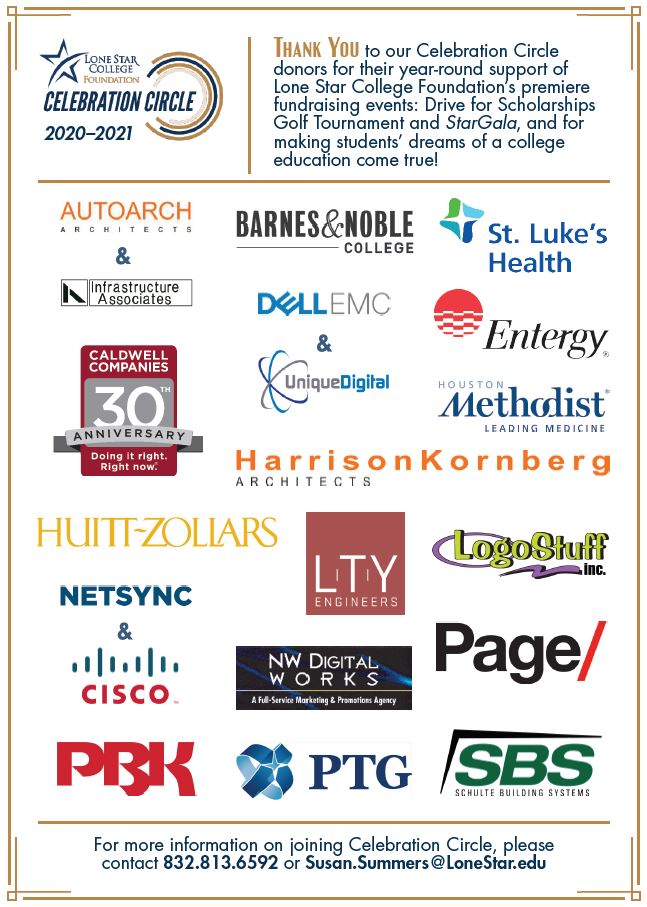 AUTOARCH Architects & Infrastructure Associates
Barnes & Noble College
Caldwell Companies
CHI St. Luke's Health
Dell EMC & Unique Digital
Entergy Texas, Inc.
HarrisonKornberg Architects
Houston Methhodist
Huitt-Zollars
LogoStuff, Inc.
LTY Engineers
Netsync & Cisco
NW Digital Works
Page
PBK Architects, Inc.
Precision Task Group
Schulte Building Systems