23rd Annual Golf Tournament
Monday, November 21, 2016 at The Woodlands Country Club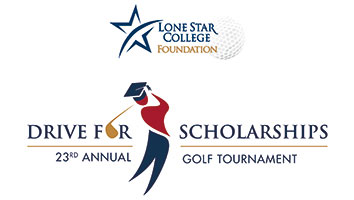 Thank you for your interest in the Lone Star College Foundation Golf Tournament!
Your participation in this event makes a difference in the future of a student and your community.
Here is the impact of last year's Tournament, which raised nearly $100,000 in net proceeds:
The Foundation awarded 38 scholarships of $500 to deserving students.
The endowment grew by $59,000!
Proceeds from the Tournament also provided for student support funds at each campus. These funds support students who need tuition assistance on an urgent basis, or who are facing emergencies which might cause them to drop out of classes.
Associate degree graduates earn an average of 25% more than high school graduates, and by the year 2020 sixty-five percent of all jobs will require post-secondary training. A strong workforce equals a strong community, and this is why your commitment to student scholarships is more crucial than ever.

A full ninety-one percent of LSC graduates stay in their communities to live and work, becoming contributing members of the local economy. This combination of higher student incomes and increased business productivity adds $3.1 billion to the Houston economy. That is a great return on your investment!
Click HERE for Electronic Brochure
Click HERE to purchase your SUPER TICKET!
Click HERE for sponsorship opportunities
Click HERE to register online and pay online by credit card
Click HERE to reserve your team slot and mail your check in to the Foundation Office
Contact the Foundation Office for more information: Foundation@lonestar.edu