Internal Audit Department
About Us
The Internal Audit Department conducts audits and reviews and completes consulting services to assist Lone Star College management improve operations. View the Audit Process Overview.
Mission
The mission of Internal Audit is to enhance and protect the College's organizational value by providing risk-based and objective assurance, advice and insight.
Vision
To be a high-performing internal audit function that meets our stakeholders' expectations and is viewed as a valued partner and trusted advisor.
Components of Internal Control
The Committee of Sponsoring Organizations of the Treadway Commission (COSO) released its Internal Control - Integrated Framework in 1992. It is recognized as a leading framework for designing, implementing and conducting internal control and assessing the effectiveness of internal control.
Internal Control Integrated Framework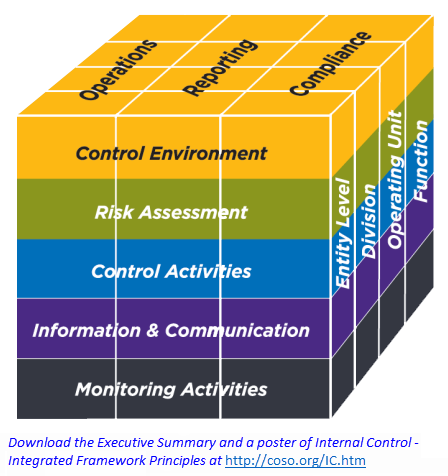 Internal control helps entities achieve important objectives and sustain and improve performance. COSO's Internal Control - Integrated Framework ("Framework") enables entities to effectively and efficiently develop systems of internal control that adapt to changing business and operating environments, mitigate risks to acceptable levels, and support sound decision-making and governance of the entity.
Definition
Internal control is a process, effected by an entity's board of directors, management, and other personnel, designed to provide reasonable assurance regarding the achievement of objectives relating to operations, reporting, and compliance.
Internal Audit Ethics Hotline
Lone Star College is committed to an environment where open, honest communications are the expectation, not the exception. We want you to feel comfortable in approaching your supervisor or administration in instances where you believe violations of policies or standards have occurred.
In situations where you prefer to place an anonymous report in confidence, you are encouraged to use this hotline hosted by a third party hotline provider, EthicsPoint. You are encouraged to submit reports relating to violations of any Lone Star College policies, as well as asking for guidance related to policies and procedures, and providing positive suggestions and stories.
See the EthicsPoint FAQs for more information.
You may also report suspected fraud, waste, or abuse to the State Auditor's Office Hotline at (1-800-892-8348) or at http://www.sao.texas.gov/
Frequently Asked Questions
Q: Why are audits performed?
A: The goal of Internal Audit is to add value and improve on Lone Star College's operations. A primary responsibility of Internal Audit is to determine whether the College's network of risk management, internal control, and governance processes, as designed and represented by management is adequate and functioning in a manner to help ensure:
Risks are appropriately identified and managed.
Activities are in compliance with policies, standards, procedures, and applicable laws and regulations.
Resources are acquired economically, used efficiently, and adequately protected.
Program objectives are achieved.
Legislative or regulatory requirements impacting the organization are recognized and addressed appropriately
Q: How are areas selected for an audit?
A: Areas for audit are selected based on an annual risk assessment process. The Internal Audit Department considers several factors such as size and complexity of operations, compliance and financial risks, changes in people, systems, and processes. In addition, management may request an audit.
Q: What are the benefits of an audit?
A: An internal audit can help to identify risks, which could lead a department/area to fall short in achieving its operational goals and targets. The audit will provide a chance to have an objective review of your area and can help ensure that procedures continue to comply with College polices and procedures. An audit is an opportunity to receive an independent appraisal of the effectiveness and efficiency of your department's activities.
Q: How are recommendations tracked and monitored?
A: Recommendations are tracked in TeamMate. Communications will be sent out periodically to management responsible for an audited area to request a status to determine whether recommendations have been satisfactorily implemented.
Q: How do I update the status of a recommendation?
A: You can update the status of a recommendation by using the TeamMate application. You can learn how to update the status of your recommendation using the #TeamMate Video
Annual Audit Plans and Reports
Fiscal Year 2018 Internal Audit Annual Report
Fiscal Year 2017 Internal Audit Annual Report
Make LSC part of your story.