LSC-Montgomery Food Pantry
About | Volunteer | Donate | Other Community Resources
Welcome to Spring 2023!
NOTE: At this time we are still working to finalize our hours of operations. The following are times we have confirmed volunteers for this week, so we will be open during these times:
Tuesday, 5/9/2023: 1-5pm
Thursday, 5/10/2023: 1-3pm
We are an all-volunteer organization, so our operations depend on the availability of our volunteers. If you have an immediate need, please email MC-FoodPantry@lonestar.edu and we will work with you to find a way to get you a bag of food.
Summer 2023!
Mini-Maymester begins next week and lasts for 3 weeks. The Food Pantry schedule for these 3 weeks (5/15-6/5) will be:
Tuesday: 1-5pm
Wednesdays: 1-5pm
We are still working on the schedule for the two summer sessions and will post them here once they have been decided.
How to access our services:
Please make sure to read the following information thoroughly.
Step 1: Register Here.
Before you receive your first bag of each academic year, you must register online. This form is only filled out once each academic year and the information is only used to verify your connection with LSC-M, prepare your food bag and to report demographic information to the Montgomery County Food Bank, since we are a partner organization with the MCFB.
Please only fill out 1 form per household, indicating all individuals who reside within the household on this form.
Step 2: Come to the Food Pantry & Grab a Bag.
Once you have registered, you are eligible to request a bag of food every other week. We are no longer taking appointments, so you must come to the pantry to receive a bag of food.
If you are unable to access the food pantry during our open hours, e-mail us at MC-FoodPantry@lonestar.edu. We will work with you to ensure you have access to our services.
About the LSC-M Food Pantry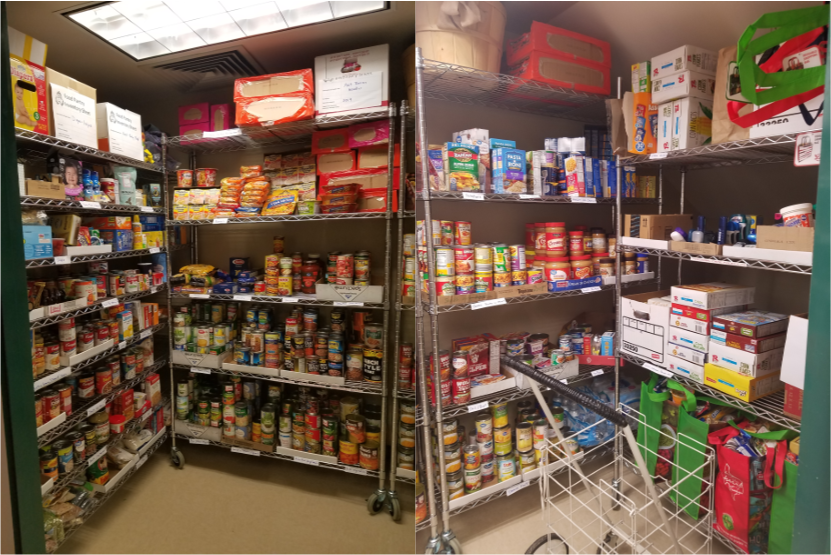 The mission of the Food Pantry at Lone Star College-Montgomery is to help meet the food needs of all members of community with dignity and respect.
We are located inside the lobby of the Administration Building (Bldg. E), to the left of the Information Desk.
The Food Pantry is supported by a board of directors made up of students, faculty, staff, and community leaders that help provide oversight and support. All major decisions are made by the board of directors. Check-out our constitution here.
Contact us via e-mail at MC-FoodPantry@lonestar.edu
Nondiscrimination Policy
In accordance with Federal law and U.S. Department of Agriculture policy, this institution is prohibited from discriminating on the basis of race, color, national origin, sex, age, or disability.
To file a complaint of discrimination, write USDA, Director, Office of Adjudication and Compliance, 1400 Independence Avenue, SW, Washington, DC 20250-9410 or call 800-795-3272 or 202-720-6382 (TTY).
USDA is an equal opportunity provider and employer.
Want to Volunteer?
(Dr. Riley and members of the Psychology Club, Psi Beta, and the Food Pantry Board of Directors after sorting all the donations from the Fall 2018 Food Drive)
If you wish to volunteer, please fill out this online form and someone will be in contact with you shortly.
Other Community Resources
There are many community organizations that provide support to those with financial struggles. For resources related to mental health or crisis support, visit the LSC-M Counseling Services website.
Want to Donate?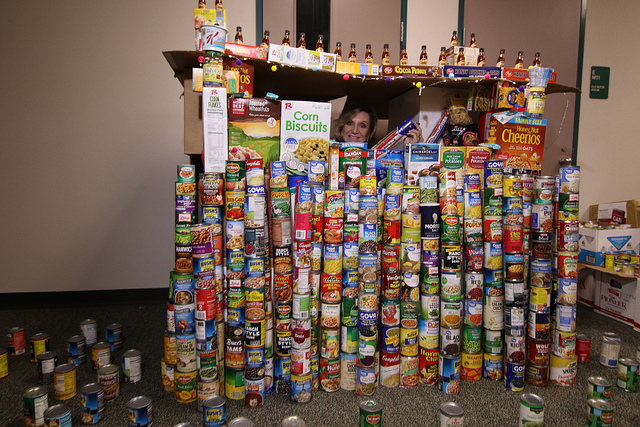 (Dr. Riley inside a jail made from donations from the Fall 2018 Psychology Club/Psi Beta food drive)
The Food Pantry welcomes all donations, as it is a self-supporting program. If you are interested in donating, please e-mail the Food Pantry and someone will be in contact with you shortly: MC-FoodPantry@lonestar.edu.
Specific Items in Need (updated 2.6.2023)
Jam/Jelly
Boxed cereal
Mac and cheese
Dried rice sides
Dried pasta sides
Dried potato sides
Make LSC part of your story.