Since childhood, Todd Miller's passion has been music. His zeal has led him to sing in many concerts, perform professionally and share his knowledge with students and community members for many years.
Miller, music professor at Lone Star College-Kingwood, recently released his first CD entitled, "Bring Him Home." He has been at the college since 1994 and became a full-time instructor in 1996. Prior to LSC-Kingwood, the professor was a freelance classicalsinger who performed at churches and taught privately.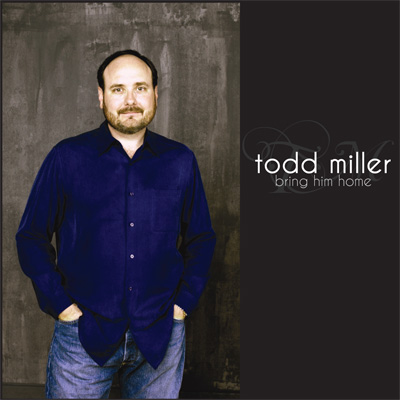 "I have been involved in music my entire life and started singing in church as a young child. I really loved music and was drawn to that," Miller said. "My father had a nice voice and people told me I did too. I always wanted to be either a professional baseball player or a singer. When I couldn't break the starting line-up for my high school baseball team, music called!"
Once he made music full-time in his life, Miller said several musical genres have inspired him into the type of music he performs and enjoys today. The musician/singer explained that as a child, he was into gospel music and hymns and was heavily involved in choir, band and musical theatre in high school. In college, he became hooked on opera and today is intrigued by the crossover music of Bocelli and Josh Groban, which is the closest genre to his CD.
Miller's motivation to create and release his CD came from his desire to wait until he could make a CD that was as professional as anything heard commercially. The music compilation contains original arrangements and orchestrations.
"The music that moves me the most is that which combines very high quality and accessibility," he said. "I stay involved in music because I believe music helps explain and enrich our human existence. The myriad of musical styles and genres that have been created over the centuries keeps me excited about making music. To make music for a living is truly a charmed existence."
In addition to teaching music at LSC-Kingwood, Miller is also involved in various campus and community organizations. He conducts the Kingwood Chorale and Chamber Orchestra, the Chamber Singers and is involved in the summer opera program. He is also the faculty representative for the Camerata Music Club and a board member of the Kingwood Musical Arts Society. He was recently appointed musical director/principal conductor for the First Presbyterian Church of Kingwood.
Register now for May mini-term, summer I, summer II and fall 2010 credit classes in one of three ways: phone, online or on campus. Classes are offered days, evenings, or weekends in traditional, Internet, video, TV and independent study formats. Current students can register by telephone at 281-591-6625. Former and current students can register online at www.LoneStar.edu/registration
For general information about Lone Star College-Kingwood, call 281-312-1600 or visit our Web site at http://lonestar.edu/kingwood.htm
With more than 62,000 students in credit classes in spring 2010, Lone Star College System is the second largest and the fastest-growing community college system in Texas and the largest institution of higher education in the Houston area. LSCS consists of five colleges including LSC-CyFair, LSC-Kingwood, LSC-Montgomery, LSC-North Harris, and LSC-Tomball, six centers, LSC-University Park, LSC-University Center at Montgomery, LSC-University Center at University Park, Lone Star Corporate College, and LSC-Online. To learn more visit LoneStar.edu.