Coyote Connections program helps incoming freshmen at LSC-Kingwood
Published on: April 27, 2012
Recent high school graduates who need a boost in math or English before they enter college this fall are encouraged to enroll soon in the Coyote Connections program. Each session will offer a section of math and a section of english. The first session begins on June 11th, 2012. Our second session will begin on July 9th, 2012.
Coyote Connections is a program designed to help a unique group of students-those who are just so close to being able to do college level work in reading, writing, and/or math, but who need a little more preparation to put them over the top.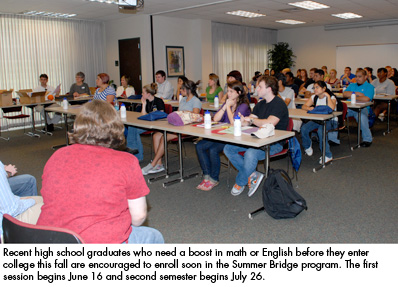 Providing the short-course format of the Summer Bridge is the college's effort to help these students move more quickly into their college level work, saving them time and money while simultaneously boosting confidence and skill. Studies show that the more quickly students move into college level work, the more likely they are to graduate.
Students interested in the program must complete an online LSC Kingwood application, talk to an advisor, and take either the ACT COMPASS or ACCUPLACER placement examination. Academic advisors are available to assist with enrollment."Students need to register as soon as possible to assure available space in the classes. Registration must be complete prior to the first day of class," Terry said.
The placement test fee is waived for Summer Bridge candidates. The Testing Center hours are 8AM-9PM, Monday through Thursday, 8AM-4:30PM, Friday and Saturday. Examinees should arrive for testing no later than 4 hours before closing time and bring a current photo ID with them.
The Coyote Connections program tuition will be $174 for in-district students which includes textbooks and materials; however, upon successful completion of the course(s), tuition will be reimbursed.
For more information or to register, call:
Advising: 281-312-1502
Admissions: 281-318-4312
Testing Center: 281-312-1476
Quick Facts:
Philosophy behind Coyote Connections (formerly Summer Bridge)
Coyote Connections will address the success and retention needs of developmental students in math and writing. It is an intensive 4 -week program enabling students to complete developmental courses quickly so that they can begin the fall semester at college level.
What are the goals of the Coyote Connections Program?
To enable students to complete developmental coursework more quickly in order to enroll in college level courses by the fall
To provide students with integrated orientation and student success strategies
To link students with a staff or faculty mentor who facilitates the student's first-time-in-college experience
To improve student success and retention rates
To address the success and retention needs of developmental students in math, reading, and writing
Who should attend?
First time in college students or 2012 high school graduates in suburban north Houston, both Harris and Montgomery counties in need of upper level developmental courses in writing and math.

Please note that students must meet all the criteria in order to be eligible to participate in the 2012 Coyote Connections Program.



COMPASS: Reading 81, Writing 80 w/a 6 on essay, Math 63
ACCUPLACER: Reading 78, Writing 76 w/a 6 on essay, Math 82
THEA: Reading 230, Writing 219, Math 261
*Please note that TAKS scores are not used for placement into the Coyote Connections Program. Students using TAKS scores need to take a full battery of placement tests.
What is the cost of the Coyote Connections Program?
The tuition for in-district students is $174.00
What are the savings and rewards?
Program components include an upper level developmental class, free textbooks, and a $150.00 scholarship upon successful completion of the course with a C or above.
What are the dates and times of the Coyote Connections Program?

Session I: June 11, 2012 - July 3, 2012
| | | |
| --- | --- | --- |
| Course | Days | Times |
| ENGL 0307 | MTWTh | 9 a.m. - 12 p.m. |
| MATH 0310 | MTWTh | 9 a.m. - 12 p.m. |

Session II: July 9, 2012 - August 2, 2012
| | | |
| --- | --- | --- |
| Course | Days | Times |
| ENGL 0307 | MTWTh | 9 a.m. - 12 p.m. |
| MATH 0310 | MTWTh | 9 a.m. - 12 p.m. |
---
Register now for credit classes online through myLoneStar. Classes are offered days, evenings, or weekends in traditional, Internet, video, TV and independent study formats. For more information on how to register online, visit www.lonestar.edu/registration.
For general information about Lone Star College-Kingwood, call 281-312-1600 or visit http://lonestar.edu/kingwood.htm
With more than 69,000 students in credit classes for spring 2011, and a total enrollment of more than 85,000, Lone Star College System is the largest institution of higher education in the Houston area, and the fastest-growing community college system in Texas. Dr. Richard Carpenter is the chancellor of LSCS, which consists of five colleges including LSC-CyFair, LSC-Kingwood, LSC-Montgomery, LSC-North Harris, and LSC-Tomball, six centers, LSC-University Park, LSC-University Center at Montgomery, LSC-University Center at University Park, Lone Star Corporate College, and LSC-Online. To learn more visit LoneStar.edu.