Office of Technology Services (OTS)
The Office of Technology Services (OTS) serves the information technology needs of Lone Star College in addition to serving as a trusted partner providing data and analytical expertise to support planning and decision-making.
OTS Service Desk | Student Resources | Faculty and Staff Resources | General Info | OTiS
Get IT Help Around-the-Clock
If you need assistance, the OTS Service Desk is open 24 hours a day, 7 days a week, 365 days a year (366 days during a leap year!) to meet the ongoing needs of our students, faculty, and staff.
Visit our online LSC Service Center day or night to look up helpful documentation, submit a ticket or open a live chat with one of our agents, or
Give us a call at 832.813.6600 (toll-free 866.614.5014). We're happy to help!

Anytime, Anywhere, Any Device
There are numerous ways Lone Star College students, faculty, and staff, can collaborate - no matter if they're on campus or on the go. Check out the resources below for helpful links, information, and tutorials to help you get started with technology services at LSC.
Student Resources
Faculty and Staff Resources
General Information
Annual Report
Our Annual Report offers transparency and insight to the customers we support. The scope of the report is a high-level review of the past year's accomplishments by the Office of Technology Services and the Office of Analytics & Institutional Reporting, as well as statistics and facts about our day-to-day operations and strategic plan.
Although every IT project is directly tied to and aligned with supporting the mission of Lone Star College, our IT strategy allows us to approach initiatives with a specific focus so we are continuously improving in all areas.
Helpful Resources
-- Contacting OTS for Issues or Requests - Quick Links for Common Requests and More
-- LSC Resources & Tools Available Online - What's The Difference Between Them?
-- Visit the LSC Service Center Knowledge Base for other helpful "How-To" docs.
-- For employees: To see a visual representation of the wireless coverage in each building, go to Wireless Coverage on the Employee Intranet.
We Want Your Feedback
Faculty & Staff, you could win an OTiS! When your OTS Service Desk ticket is closed, be sure to fill out a customer satisfaction survey to tell us how we did. Your name will go into our monthly drawing for your very own plush OTiS. Don't miss out on your chance to win. He's a cutie!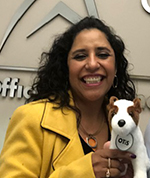 OTiS Tweets

Follow our friendly little helper, OTiS, on Twitter @LSCots. Check out the helpful info, tech fun, and more that OTiS tweets to his followers.

OTS on Flikr

What's OTS been up to? Follow us on Flikr @LSCots to see photos of our events, community service activities, monthly OTiS drawing winners, and more.
Make LSC part of your story.