One Button Studio

What is the One Button Studio?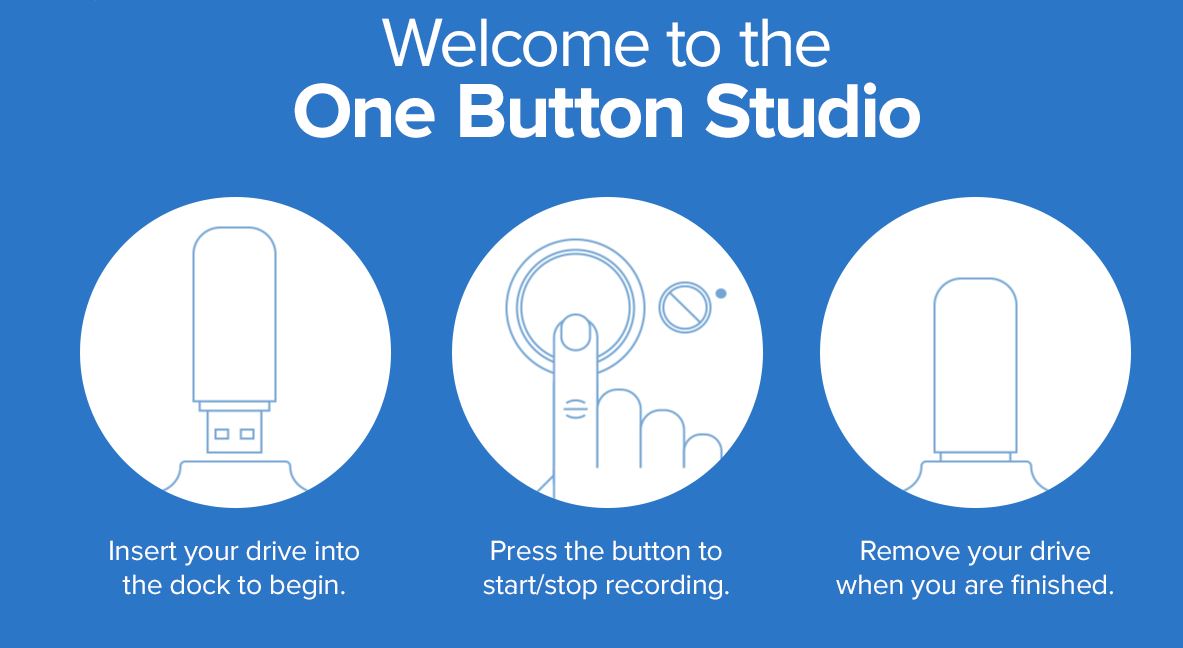 The One Button Studio is a video production studio that enhances teaching and learning at LSC-Tomball, allowing students and faculty to record video content with no technical expertise required. All you need is a flash drive and you're ready to create a video. Simply schedule a time for the One Button Studio at our Instructional Media Assistance Center (IMAC). When you arrive at our studio, you will be greeted by a staff member from Multimedia Services that will assist you with the setup. You simply insert a USB flash drive into a USB port. This triggers the studio lights to turn on, starts the camera and gives the user a live preview. Then when ready, push a silver button. When the recording is complete, just push the button again, and the system compiles, compresses and loads the video in MP4 format onto the flash drive. Everything then turns off and resets for the next user. Usually after the initial first time, the user will be able to do this process on their own.
Possible uses include:
Flipping a classroom
Recording a lecture in advance
Practicing a presentation
Capturing a computer screen with narration
Recording an interview with a guest speaker

Rehearse for class presentations, thesis or dissertation defenses
Create videos for online instruction
Create videos for recruitment, training, or professional development seminars
Create ePortfolio materials or video essays
Practice your public speaking skills
Use the green/blue screen to create visual effects
Record a group interview or podcast
Create professional videos for class projects
Create tutorials (especially great if you are a tutor in the Academic Success Center)
Rehearse for your speech class
Create individual or group presentations
Practice your interview skills with mock interviews
Create a video for a campus student organization
Oral histories
Interviews
Informational videos

Create introduction videos for online class(es)
Rehearse for conference presentations
Create video lectures to embed in D2L
Videos for supplemental instruction
Create videos for assignments
Create interactive videos to demonstrate skills or techniques
Create videos for your department
Create videos to share with students for campus events, activities, groups.

The LSC-Tomball Multimedia Services reserves the right to decline any video studio request for any reason.
The One Button Studio may only be used to produce videos for lawful and educational purposes.
The One Button Studio will not be used to produce or create materials that are:

subject to copyright, patent, or trademark protection,
in violation of intellectual property rights
prohibited by Lone Star College, local state, or federal government
unsafe, harmful, dangerous or poses an immediate threat to others,
obscene or inappropriate for educational institutions
extraneous (videos that will take several hours) to produce

Before the Appointment
Set up appointment to use the studio by filling out the Makerspace Request form.
Bring an FAT formatted flash drive that is 2 gigabytes or larger to save your video; about 1 gigabyte for 15 minutes of recording.
Prepare the script or outline for your video, if needed.

On the Appointment Day

Check in at the Reference desk. The librarian will unlock the room
Set up the space for your recording needs
Practice your presentation
Restart the One Button Studio Computer
Insert your FAT formatted USB drive into the hub
Press the OBS Button to start the recording
Make your performance
Press the OBS Button to end your recording
Wait for the file to be completely processed and saved into your flash drive before removing it from the USB hub port
Turn off the projector, if used
Let the front desk person know that you are done with your session
Access your video recording from the computer in our sound booth
Use Adobe Premiere, iMovie, or other video editing software to edit your video, if applicable

Video Output: MP4
Video Camera: Canon Full HD Camcorder 1920 x 1080p Video
H.264 Pro Recorder/Encoder
Light Board
Reflecmedia blue/green screen system
The One Button Studio is available to all members of the LSC-Tomball community. The studio is located in East Hall, room E 254 – the IMAC studio.
Make an Appointment
Studio Instructions
Post Production - Green Screen