Giving to LSCS


The Lone Star College Foundation's mission is to change lives through student scholarships and quality educational programs achieved by excellence in relationship building, fundraising, and investment management.
Established as a 501(c)(3) Type I corporation, the LSC Foundation secures and manages unrestricted and restricted assets to support and enrich the academic and scholarship programs of LSCS.
Lone Star College Scholarship Application
Complete the Lone Star College Scholarship Application through myLoneStar.

---
Ways of Giving
There are many ways to make gifts to LSCS. Careful planning can make charitable giving a personally satisfying and financially sound decision.
---
Our Donors
We appreciate our generous donors who support education and student scholarships. These donors are making a difference in students' lives and in the life and future of our community.

---
Our Endowments
Generous individuals, families, estates, businesses, corporations, and foundations have established scholarship endowments to support students in perpetuity.

---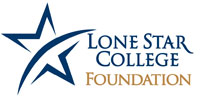 Thank you for your past and future support!