Giving to LSCS


The Lone Star College Foundation's mission is to change lives through student scholarships and quality educational programs achieved by excellence in relationship building, fundraising, and investment management.
Established as a 501(c)(3) Type I corporation, the LSC Foundation secures and manages unrestricted and restricted assets to support and enrich the academic and scholarship programs of LSCS.
Party with a Purpose Supports StarGala 2015
Lone Star College Dental Hygiene professor and StarGala Committee member Diane Wilson, along with her husband, LSC Foundation Board member Danny Wilson, and co-host Robin Stout, hosted one of the popular Party with a Purpose events at Wilson's home in Kingwood on the evening of March 19, 2015. The purpose of these parties is for the host to gather their own friends, family and colleagues for an evening of discovery and support of Lone Star College, as well as to collect auction items for the upcoming StarGala donated by each guest. The theme for the Wilson's party was gourmet cooking, and many exciting kitchen gadgets were collected to be included in the silent auction, including fashionable aprons, serving dishes, knife sets, wine, a food processor, pizza stones, baking supplies, and more. "Mad Men" is the theme for this year's event, and the theme will truly be a celebration of being "mad about scholarships," as all net proceeds will support the Foundation's efforts of awarding scholarships to high-achieving and deserving Lone Star College students. For more information on the StarGala, contact Judy Lux, Director of Special Events, at judy.lux@lonestar.edu.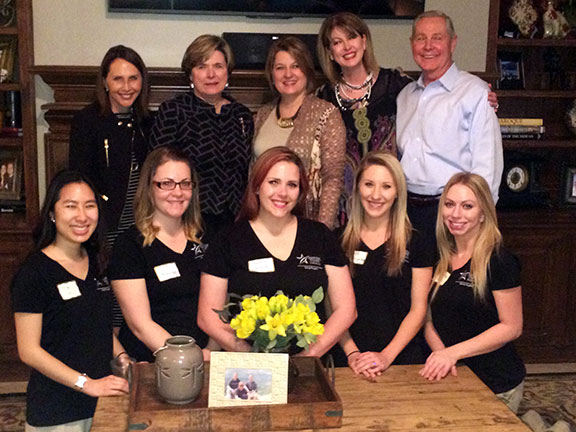 Special guests and volunteers at the Wilson's Party with a Purpose included current dental hygiene students, pictured in the front row, left to right: Tina Vo, Jill Kennedy, Heather Girard, Kayla Cunningham and Jessica Chapa. Behind the students are pictured, left to right: Leah Goss, Chief Advancement Officer of the Office of College Advancement; Judy Lux, Director of Special Events; Robin Stout, co-host of the event; and Diane and Danny Wilson, co-hosts.
LSC-Foundation to host StarGala 2015
Plans for
StarGala
2015 are in full-swing! This year's Co-chairs and Sterling Cooper Table Sponsors, James Harrison and Daniel Kornberg of HarrisonKornberg Architects, along with the rest of the Gala committee, are "mad about scholarships" and look forward to celebrating with a "Mad Men" theme. So get all decked out in your groovy 60's cocktail best and join the fun Saturday, April 25 at 6:30 p.m. at The Woodlands Waterway Marriott which features the Chancellor's Experience live auction package, "Golf with the Chancellor at Carlton Woods." For more information on supporting the
StarGala
, contact
Judith.M.Lux@lonestar.edu
.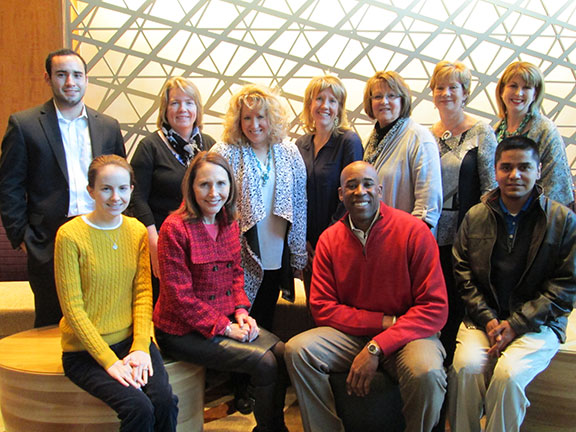 Pictured are the Gala Committee members and Office of College Advancement staff members, front row, left to right: Caitlin Miller (Program Director, Research and Data Analysis), Leah Goss (Chief Advancement Officer), StarGala co-chair James Harrison (Daniel Kornberg is not pictured), and John Fisher; back row, left to right: David Needle, Fiona Burnett (Coordinator, Programs and Scholarships), Susan Summers (Director of Constituent Engagement), Cynthia Rowe, Debbie Howle, Linda Stegall and Diane Wilson.
Lone Star College Scholarship Application
Complete the Lone Star College Scholarship Application through myLoneStar.

---
Ways of Giving
There are many ways to make gifts to LSCS. Careful planning can make charitable giving a personally satisfying and financially sound decision.
---
Our Donors
We appreciate our generous donors who support education and student scholarships. These donors are making a difference in students' lives and in the life and future of our community.

---
Our Endowments
Generous individuals, families, estates, businesses, corporations, and foundations have established scholarship endowments to support students in perpetuity.

---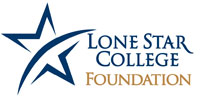 Thank you for your past and future support!