StarGala 2015
Lone Star College Foundation StarGala 2015 goes mad for scholarships
---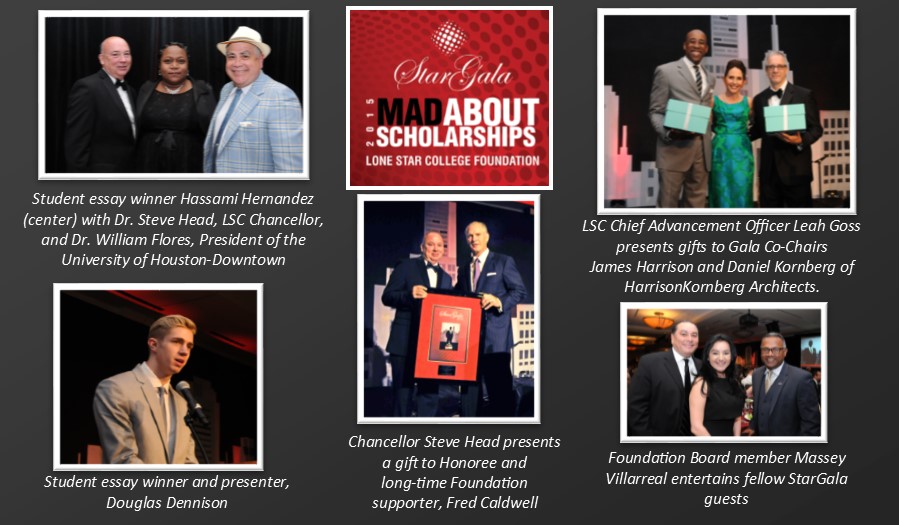 HOUSTON (May 5, 2015) – The Lone Star College Foundation held its annual signature event , StarGala 2015, Saturday, April 25, 2015, at The Woodlands Waterway Marriott. Attracting more than 800 guests, this year's theme was "Mad About Scholarships," and raised over $575,000 to support student scholarship programs at Lone Star College.
"We are thrilled with the amount of money that was raised," said Leah Goss, chief advancement officer for Lone Star College. "A typical scholarship is around $1,000, and in most cases 20 or more students apply for just one scholarship, so these funds will go a long way in making a college education possible for many hard-working and deserving students."
This year's event honored local philanthropist, businessman and long-time LSC advocate Fred Caldwell, and featured dinner, dancing, live and silent auctions. Attendees also heard firsthand from LSC students, Douglas Dennison and Hessami Hernandez on how their lives have been directly impacted because of the support they received from the LSC-Foundation.
Dennison, a recent high school graduate and current LSC freshman told the audience that he chose LSC for many reasons, including affordability, and is convinced he is in the right place. Hernandez, a single mother of two, enrolled at LSC as an adult to build a better life for herself and family. Hernandez graduates this year as a member of Phi Theta Kappa and the Honors College at LSC.
Afterwards Dr. William Flores, University of Houston-Downtown president, generously offered Dennison and Hernandez full scholarships to the University of Houston-Downtown to continue and complete their bachelor's degrees. Flores also offered 4 additional scholarships for LSC students making for a very memorable evening.
"The Lone Star College Foundation would like to thank our wonderful co-chairs, James Harrison and Daniel Kornberg of HarrisonKornberg Architects, as well as our generous underwriters, sponsors, volunteers and guests who made this evening such a success," said Judy Lux, director of special events.
Special thanks goes to the StarGala 2015 major Underwriters:
"Madison Avenue"
PBK Architects, and The Woodlands Waterway Marriott Hotel & Convention Center.
"Sterling Cooper"
Caldwell Companies, Cypress Fairbanks Medical Center, The Feldman Family, Follet and HarrisonKornberg Architects.
"Joan Holloway"
ASA Dally/Kirskey Architecture, Canteen, DUROTECH/Texas Electrical Solutions Corporation, Joiner Architects, PGAL and Valence Operating Company.
"Lucky Strike"
4b Technology, AUTOARCH Architects LLC, DataVox and Cisco, Entergy, G2X Energy, Henry T. Brooks Investments, Huitt-Zollars/Morris Architects, Infrastructure Associates, Jones DBR/Bay-IBI Group, KROGER, PAGE/Ensight Haynes Whaley, Rotary Club of East Montgomery County, Schulte Building Systems L.P., TechKnowledge Consulting Corporation, Kevin Roberts – The Lanier Law Firm, and The Woodlands Development Company.