Gennifer Kelly, MBA has been named Lone Star College Foundation (LSCF) Board of Directors Chair. LSCF changes lives through student scholarships and quality educational programs.
"I am honored to serve as chair for Lone Star College Foundation," said Kelly who previously served as LSCF Board of Directors treasurer. "I look forward to building on the Foundation's important work to change lives through student scholarships."
In addition to naming Kelly as chair, LSCF also announced Bryan Kenski as treasurer and Chris Michel, MBA, secretary respectively. James Harrison now becomes vice chair after serving as secretary and Michelle Wogan returns to immediate past chair duties after assisting as interim chair.
"I am excited about working with Gennifer to continue to further our mission of providing scholarships and supporting Lone Star College programs," said Nicole Robinson Gauthier, CRFE, LSCF Executive Director. "I would also like to thank Michelle Wogan for her efforts while serving as interim chair."
Through annual events such as the Drive for Scholarships golf tournament and StarGala, LSCF grants numerous scholarships to LSC students. Additionally, in partnership with the college, the Foundation funds programs which provide unique educational opportunities for LSC students.
"Being a student at Lone Star College has guided me toward realizing my passion for research, volunteerism and leadership," said Madison Terry, LSC-Tomball student and Chancellor's Donor Appreciation Luncheon Scholarship recipient. "As a first-generation college student, the opportunity to be a pre-professional leader, conduct insightful research and have international internship opportunities would not have been possible without the advocates from Lone Star College."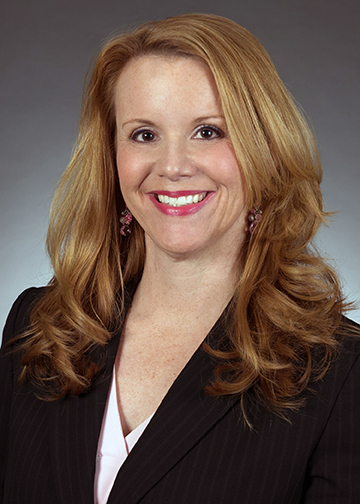 Lone Star College Foundation has named Gennifer Kelly as Board of Directors Chair.
About Lone Star College Foundation
Founded in 1991, LSC Foundation has expanded its initial investment of $20,000 into an extensive portfolio of over $39 million and has provided over $16.5 million in scholarships to nearly 18,000 students, as well as more than $8 million in program support since its inception. The mission of LSC Foundation is to change lives through student scholarships and quality educational programs achieved by excellence in relationship building, fundraising and investment management. Visit LoneStar.edu/Giving for more information.
About Lone Star College
Lone Star College enrolls over 80,000 students each semester providing high-quality, low-cost academic transfer and career training education. LSC is training tomorrow's workforce today and redefining the community college experience to support student success. Stephen C. Head, Ph.D., serves as chancellor of LSC, the largest institution of higher education in the Houston area and has been named a 2021 Great Colleges to Work For® institution by the Chronicle of Higher Education and ranked 35th in Texas in the Forbes 'America's Best Employers By State' list. LSC consists of eight colleges, seven centers, eight Workforce Centers of Excellence and Lone Star Corporate College. To learn more, visit LoneStar.edu.