LSC teams up for success with Employee Giving Campaign
Although many employees continued to work remotely due to the pandemic, LSC employees definitely joined together in spirit through this year's Employee Giving Campaign themed "One LSC". Read More>
---
Lone Star College honors students conduct research to provide real world business solutions
Lone Star College Honors College students recently took part in PIC Math, a program from the Mathematical Association of America that prepares mathematical sciences students for industrial careers by engaging them in research problems that come directly from industry. Read More>
---

Lone Star College, Metallica perform encore for student success with Metallica Scholars program
Legendary rock band Metallica has awarded Lone Star College $50,000 to help students find exciting new careers in manufacturing, health care and transportation. Read more >
---

Mini Grants improve student experience
Jointly funded by the college and Foundation, Mini Grants provide financial support for innovative ideas from employees that improve student learning and address the collegeís goals. Read more >
---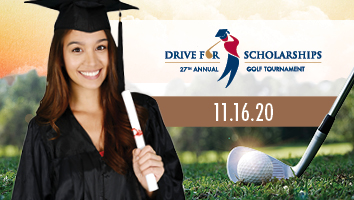 Golf Tournament 2020
Thank you for joining us for the 27th Annual Golf Tournament! We are excited to see you at this socially distant day of fun and support of the students of Lone Star College. Read more >
---

Laptop, Internet donations make online classes possible for many
With the health and safety of students and employees the top priority, Lone Star College converted most of their classes to online beginning in March to help prevent the spread of the COVID-19 virus. Students were already well into the spring semester and just as they were planning to return from spring break, classrooms closed. Read more >
---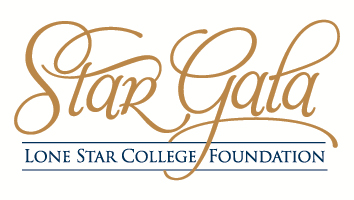 LSC Foundation StarGala shines bright for student success
Lone Star College Foundation raised $1.2 million at StarGala 2020, its annual signature event. The gala, which was originally scheduled to take place April 4, was transitioned to an online event due to the COVID-19 pandemic. Read more >
---

Sanitizing supplies donated to LSC Police Department
A big shout-out and THANK YOU to Cheryl Roberts, owner of NW Digital Works who generously donated a huge box of sanitizers, gloves and wipes to the LSC police department. Read more >
---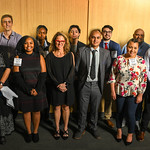 Lone Star College students awarded scholarships at Chancellor's Donor Appreciation Lunch
The Chancellorís Donor Appreciation Lunch (formerly known as the Chancellorís Breakfast) recognized 14 LSC students for their winning essays. Read more >
---

Foundation board welcomes new directors
Five new directors joined Lone Star College Foundation board at the beginning of the 2019-20 fiscal year. Read more >
---

Foundation awarded $300k grant for students
Even after nearly two years, the effect of Hurricane Harvey are still felt today. Lone Star College Students impacted by the storm are eligible to apply for a special scholarships thanks to a grant from the Qatar Harvey Fund and Rebuild Texas Fund. Read more >
---

2019 StarGala
The Lone Star College Foundation raised more than $430,000 during its annual signature event, StarGala 2019. Read more >
---

2019 Chancellor's Breakfast
Almost 200 people from all over Lone Star Collegeís service area gathered to celebrate student success at the 26th annual Chancellorís breakfast on February 26th. Read more >
---

25th Annual Drive for Scholarships Golf Tournament
More than 240 golfers met on February 25th for a day of friendly competition and to support studentsí dreams of a college education. Read more >
---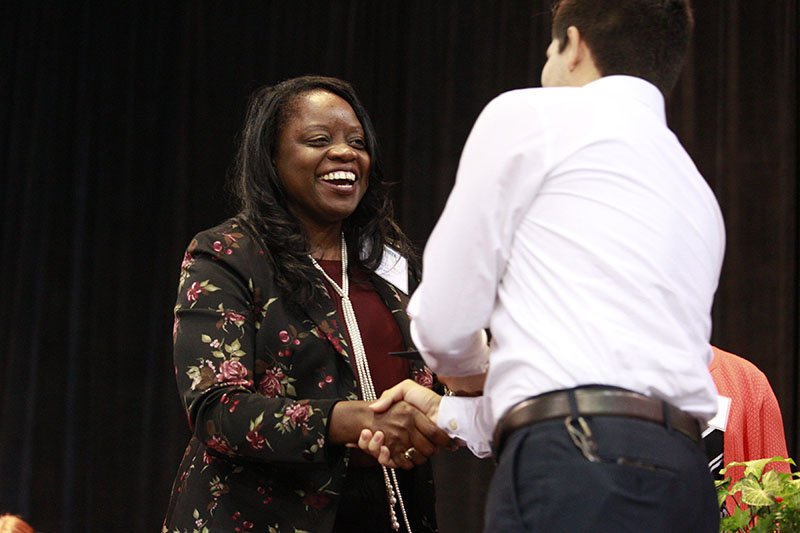 Donor Profile: Aldine ISD and LSC make a great pair
Aldine Education Foundation and Lone Star College Foundation have the shared goal of supporting student success beyond Aldine ISD classrooms for many years. Read more >
---

Employees Give Back to Our Future
The theme for this yearís employee giving campaign was a blast from the pastÖor future?!
---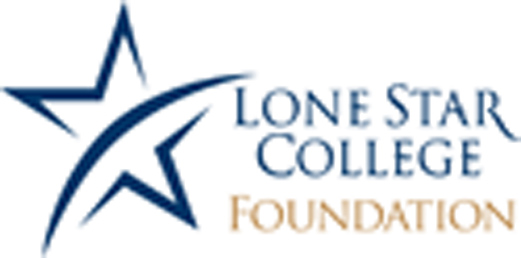 LSCF Board welcomes new members
†LSC Foundation recently added two new members, Gennifer Kelly and Officer Twyla Kimberlin to its board. Read more >
---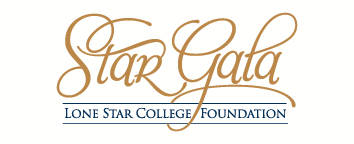 StarGala 2019 Sponsorship & Underwriting Opportunities
Mark your calendars for May 4, 2019 for StarGala! Sponsorship and underwriting opportunities are now available. Reserve your spot today to be part of this major scholarship fundraiser for Lone Star College! Read more >
---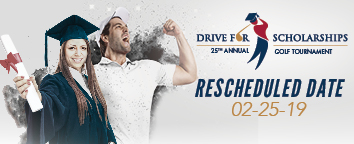 Golf Tournament 2018 Sponsorship & Underwriting Opportunities
The 2018 Golf Tournament originally scheduled for Monday, November 19, 2018 has been rescheduled for Monday, February 25, 2019. A few sponsorship opportunities remain. Read on for more details! Read more >
---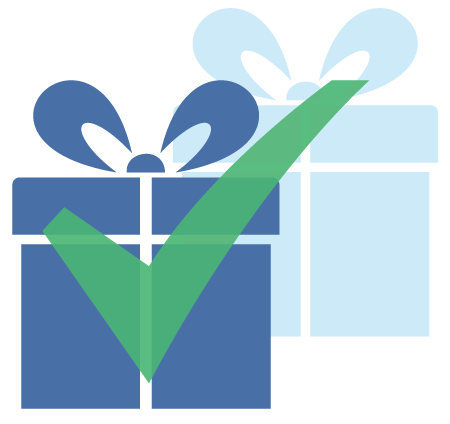 Grant challenge: Give to help Hispanic students succeed at LSC!
The U.S. Department of Education awarded both LSC-North Harris and LSC-Tomball five year grants to expand educational opportunities for the underserved Hispanic student population BUT Lone Star College must match the award in order to receive the full grant funding. As a leading Hispanic serving institution, Lone Star College is in a perfect position to help this population succeed but the Foundation is asking for YOUR help to meet the challenge! Read more >
---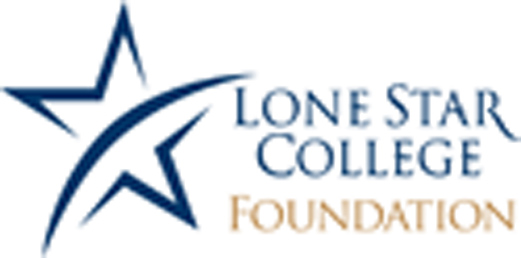 Foundation welcomes new board members
Lone Star College Foundation is proud to announce its newly elected board members. The members were voted in at our most recent board meeting and will serve three-year terms. Read more >
---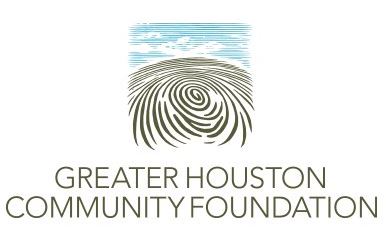 Foundation teams up with City of Houston to distribute Harvey relief
On the heels of a $1 million donation from an anonymous donor for Hurricane Harvey Relief, the Foundation distributed an additional $100,000 grant for relief assistance from Strada Education Network, Mayor Sylvester Turner, and the City's Office of Education, administered through the Greater Houston Community Foundation. Read more >
---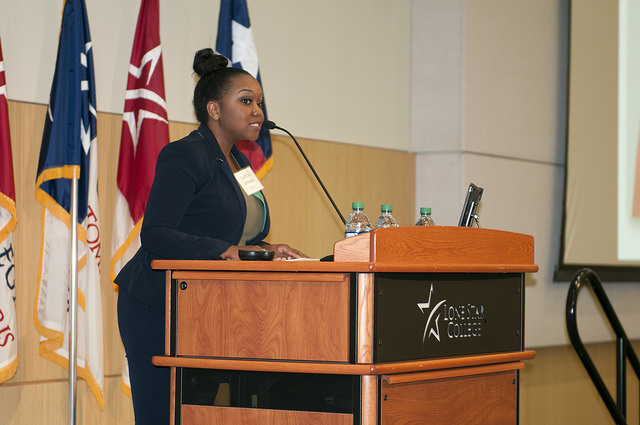 Chancellor's Breakfast celebrates 25 years with essay scholarships
For the last 25 years, the Chancellor's Breakfast highlights students from across the district who are making their dreams a reality and gives an opportunity for Foundation donors to witness first-hand the caliber of talent resulting from their investment in students. Essay winners selected from each campus and for the first time, centers, won $1,000 scholarships. Six students read their essays at the breakfast presented by Entergy Texas, Inc.
"Winning this scholarship is important to me because it gives me the confirmation that if I put my mind to something, whatever it is, I can achieve it," LSC-Kingwood winner Lutricia Wheeler said.
Read more >
---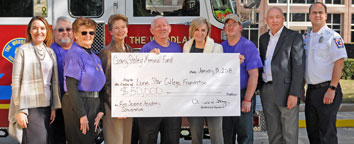 Family turns loss into hope with donation to LSC Foundation
Nearly 15 years ago, Porter volunteer firefighter Gary Staley rushed into a burning building to make sure his fellow firefighters were not in harm's way. While searching, a tank loaded with nitrous oxide exploded, fatally injuring Staley and leaving his family in grief.
Looking to honor their son, Don and Ruby Staley created the Gary Staley Memorial Fund that provides scholarships for firefighters to improve their ability to protect the health and safety of the public.
Read more >
---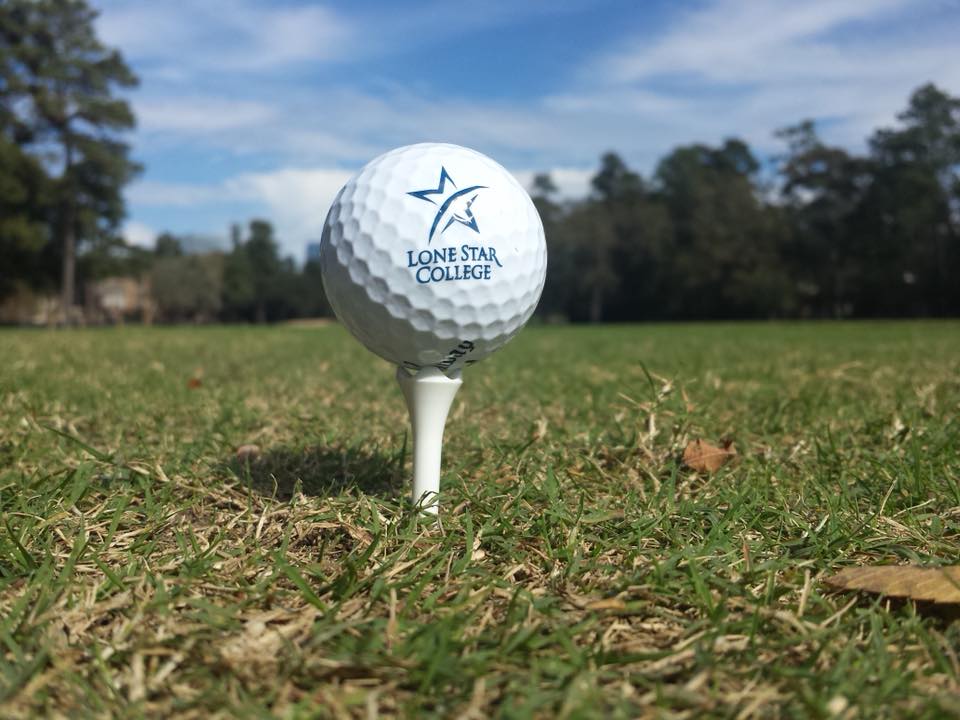 Over $150,000 raised at 24th annual golf tournament
The 24th annual Drive for Scholarships golf tournament raised more than $150,000 towards student scholarships and programs at Lone Star College. The event held November 20 at The Woodlands Country Club Palmer and Tournament courses brought together 230 golfers for a day at the links followed by dinner and raffle prizes. Read more >
---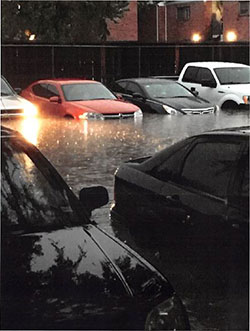 LSC says thank you to hurricane relief donors
During the immediate aftermath of Hurricane Harvey, the Foundation received $1 million from an anonymous donor to help students affected by the storm. Over $100,000 more came in from other donors and the Chancellor's discretionary fund to help LSC employees as well. We wanted to share just a few of the heartfelt Thank You notes from the more than 275 employees and 2,000 students who received assistance. Read more >
---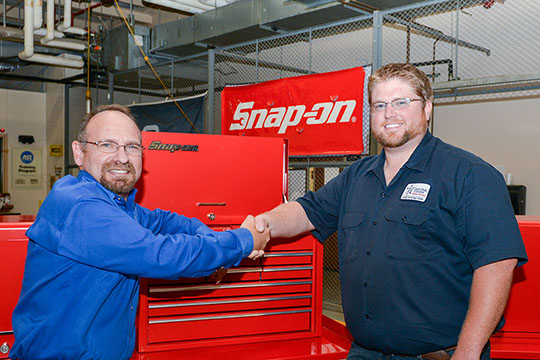 Graduates receive tool kits for success
Did you know mechanics have to bring their own tools to work? With the help of the Foundation, LSC-North Harris awarded Snap On toolkits to graduates of the automotive and diesel technology programs to help them get a jump-start on their new careers. Read more >
---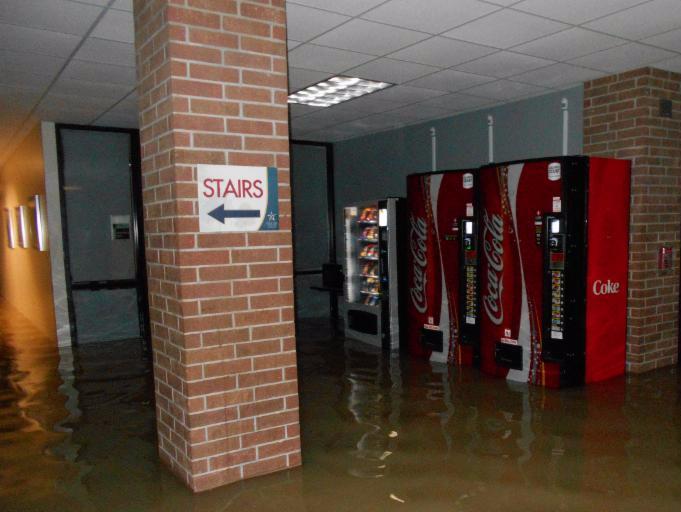 HURRICANE HARVEY RELIEF: $1 million donated to help students during aftermath
We can't tell you who they are but we can tell you what they did. The Lone Star College Foundation has an amazing secret. An anonymous donor arrived at our doors with $1 million to support students affected by Hurricane Harvey. The donation blew us away and with the wonderful gift, we have been able to help more than 2,000 students.
Read more >
---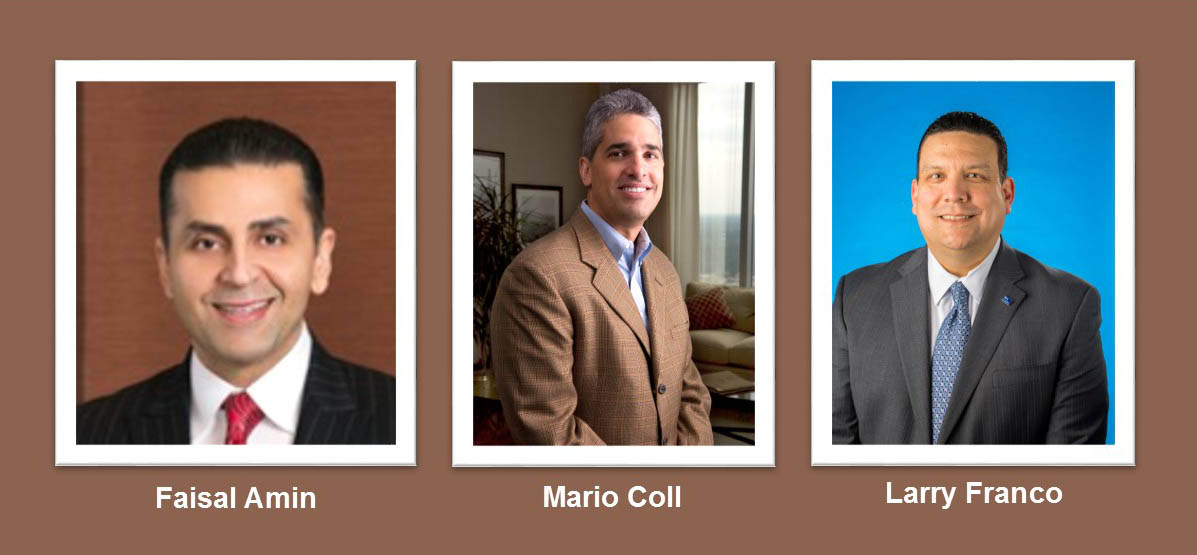 Foundation Welcomes New Board Members
September 1 marks the beginning of our new fiscal year. We are welcoming three new members and a newly elected executive board. Saul Valentin from Collaborate Architects begins his term as Chair, Michelle Wogan (Transwestern) as Vice Chair, Lynn LeBouef (Tomball Hospital Authority) as Treasurer and Danny Wilson from G2X Energy as Secretary. New members are Faisal Amin (Berkeley Research Group), Mario Coll III (Anadarko Petroleum), and Larry Franco from BBVA Compass Bank. Read more >
---
Rodeo Awards Vocational Scholarships
For the second year in a row, the Houston Livestock Show and Rodeo awarded Lone Star College $22,000 in scholarships. Scholarships will go to students pursuing vocations in technical fields such as Process Technology, Oil and Gas Floor hand and Industrial Diesel Technology. Read more >
---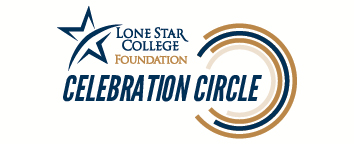 You are invited to join the Celebration Circle
As a loyal donor you have experienced the thrill of Driving for Scholarships at the Lone Star College Foundation Golf Tournament, and have dined and danced at the elegant StarGala. By doing so, you have made students' dreams of a college education COME TRUE! The Foundation is so grateful for your kind generosity. Read more >
---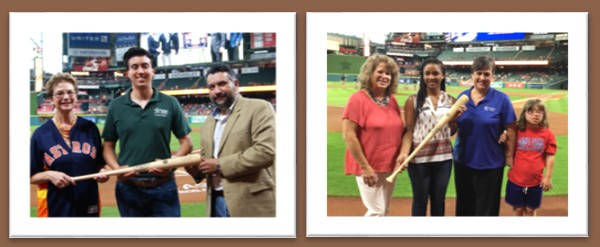 Houston Astros highlight scholarship recipients
A staple of summertime is baseball, and the Houston Astros made this tradition even more exciting for some Lone Star College students. As longtime partners of the college and supporters of the Foundation, the Astros highlighted two outstanding scholarship recipients as "Star Students" during pre-game ceremonies. Read more >
---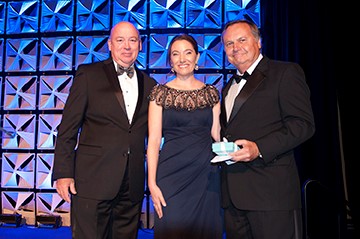 StarGala 2017 raises over $450,000 for student scholarships
The Lone Star College Foundation raised over $450,000 as part of StarGala 2017, its annual signature event.
"I have always been, and continue to be, a big supporter of the Lone Star College Foundation," said Stephen C. Head, Ph.D., LSC chancellor. "As a former director of Financial Aid, I saw a definite need to make as many scholarships available as possible."
Read more >
---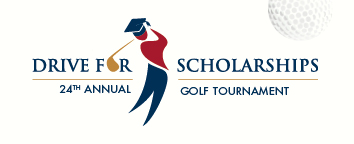 Lone Star College Foundation Annual Golf Tournament 2017
The 24th Annual Golf Tournament, "Drive for Scholarships," is set for November 20, 2017, and sponsorship opportunities are available. Read more >
---

Mini Grant funding adds sense of realism to EMT training
It might have looked like a scene from a disaster movie, but several LSC-North Harris students were getting a chance to practice real life-saving skills on simulated patients with help from special moulage, or make-up, meant to accurately depict injuries. Without receiving a Foundation mini grant to purchase the make-up, students would have to practice on mannequins with injuries verbally described by instructors. Read more >
---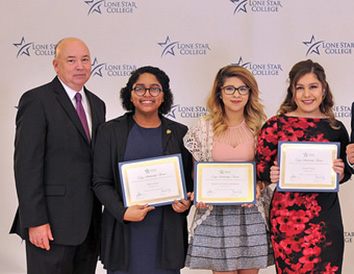 24th Annual Chancellor's Breakfast Scholarship Winners
Lone Star College students shared their personal stories of overcoming obstacles and finding success. See the winners. Read more >
---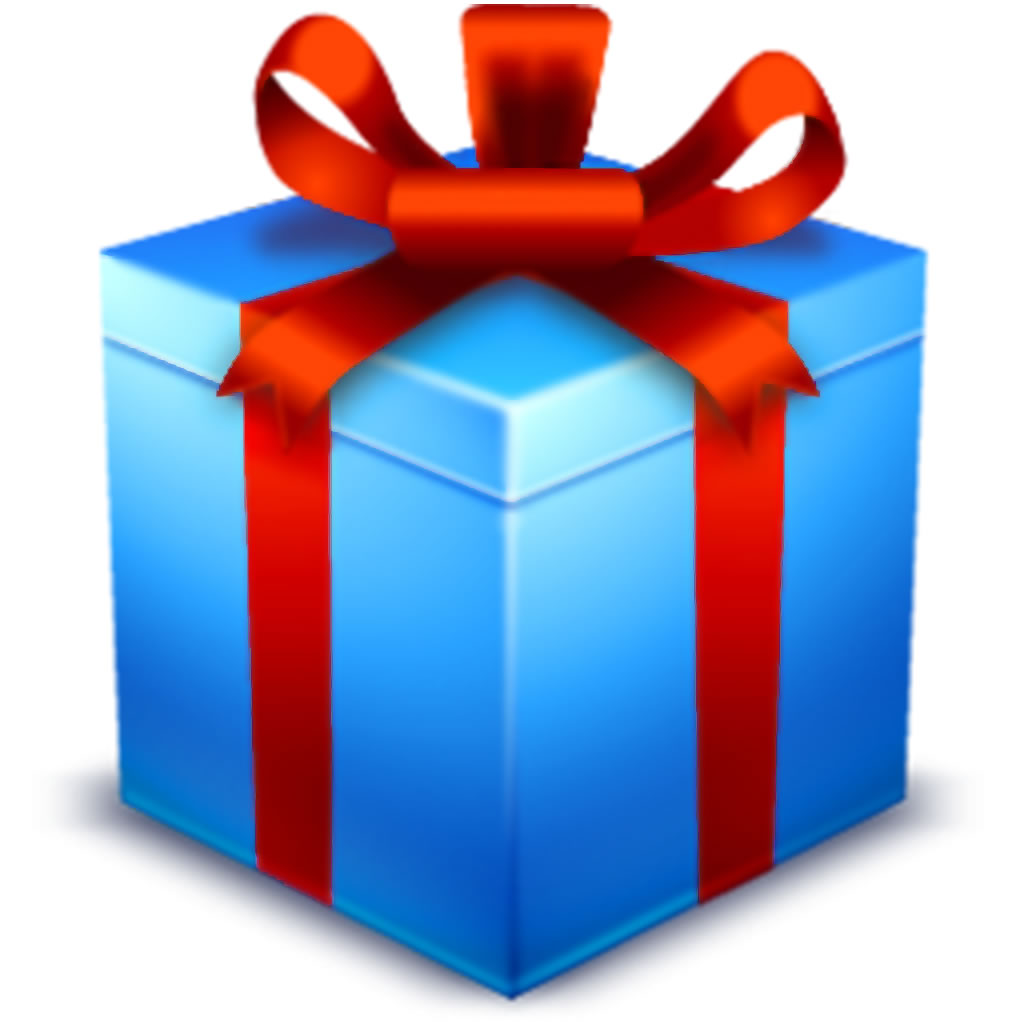 Year-End Giving to the Foundation
"The proper aim of giving is to put the recipient in a state where he no longer needs our gifts..."
-C.S. Lewis
Read more >
---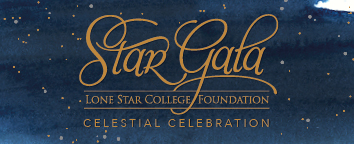 StarGala 2017
Mark your calendars and join us on Saturday, April 29, 2017 at The Woodlands Waterway Marriott Hotel & Convention Center for Lone Star College Foundation's StarGala 2017!
Read more >
---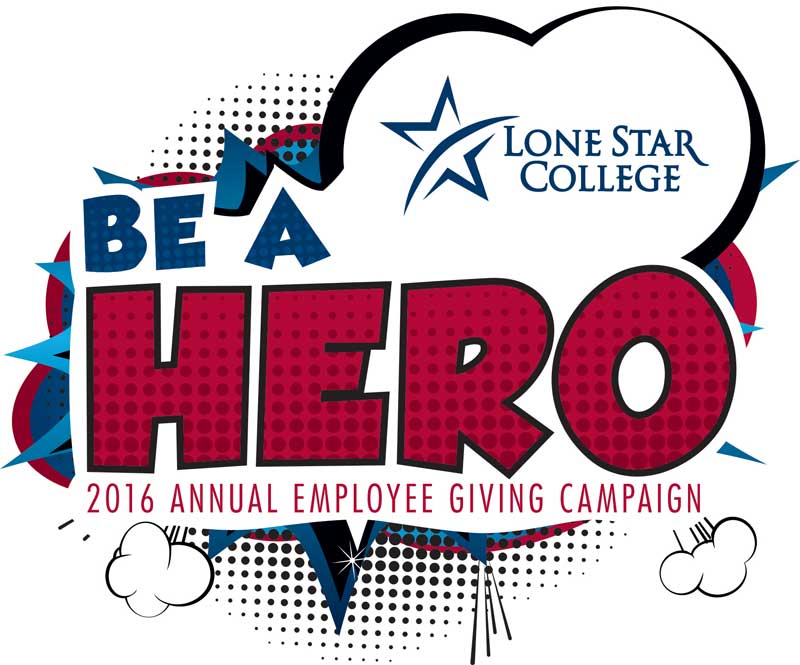 Employee Giving Campaign 2016
Lone Star College employees are truly heroes, saving the day for so many by making personal donations to the annual Employee Giving Campaign, which supports student scholarships, student and employee emergency assistance, and college programs.
---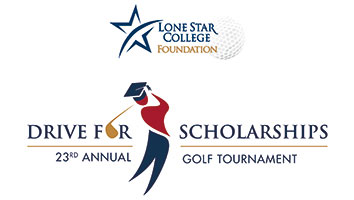 23rd Annual Golf Tournament
Join us on Monday, November 21, 2016 at The Woodlands Country as we raise funds for student scholarships! Many sponsorship opportunities are available and deadline for registration is October 15! Read more >
---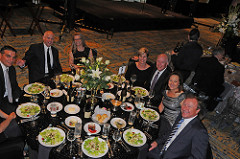 StarGala 2016 raises over $1 million!
The Lone Star College Foundation raised over $1 million as part of StarGala 2016, its annual signature event, a record-breaking achievement. Read on for more details! Read more >
---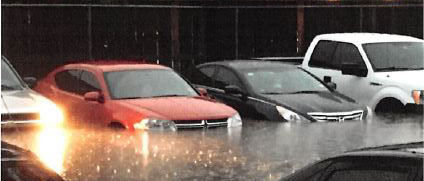 Foundation helps flood victims with $305k in donor support
Houston made the national news recently with the Tax Day Flood, and supporters of Lone Star College Foundation were there to help LSC students and employees.With funds from a major anonymous donor and other gifts from the community, the Foundation was able to distribute a total of $305,372 in assistance to 642 students and 111 employees.
Read more >
---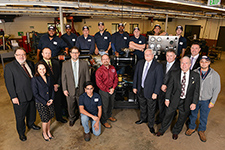 Lone Star College Foundation accepts donation to advance diesel technology training
The Lone Star College Foundation received a diesel transmission trainer donated by Allison Transmission and Stewart & Stevenson. The training equipment will be housed at LSC-North Harris and used to enhance the Industrial Diesel Technology program. Read more >
---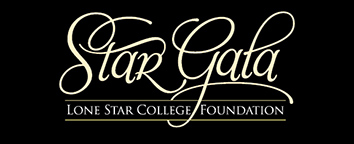 StarGala 2016
Join us for Lone Star College's annual StarGala on April 16, 2016 at The Woodlands Waterway Marriott Hotel & Convention Center. This elegant evening of dinner, live auction and entertainment is the premier fundraiser for the Foundation and supports scholarships and college programs. Read more >
---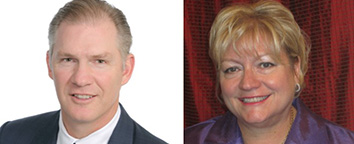 Lone Star College Foundation announces new board members
The Lone Star College Foundation is pleased to announce that Fred Caldwell and Lori Klein Quinn have been appointed to its board of directors. Read more >
---
Founders Dinner
Over 70 guests recently gathered at The Club at Carlton Woods for a very special celebration: the Lone Star College Foundation Founders Dinner, where past Foundation Board members and StarGala chairs representing service from 1997 through 2012 were honored. Read more >
---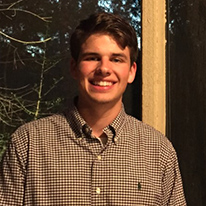 Donor Meets Recipient
Brandon Kerns, recipient of the John A. and Annice B. Nanninga Endowment Scholarship, gets the opportunity to meet the daughters of the late Mr. and Mrs. Nanninga, Beth Grijalva and Ann O'Toole. Read more >
---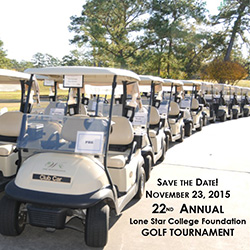 Annual Golf Tournament
Please join us Monday, November 23, 2015 for our Annual Golf Tournament and raise money for scholarships. Register early and secure your spot in this fun event! Read more >
---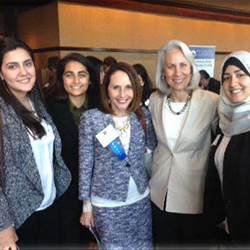 The Boundaries for these Women: "No Limits"
The Foundation sponsored LSC students attending the Greater Houston Women's Chamber of Commerce Annual Women's Conference, where empowering and game-changing speakers inspired and encouraged. Pictured, left to right: Marielisa Figuera, LSC-Montgomery; Mina Jahan, LSC-Kingwood; Leah Goss, Chief Advancement Officer, Lone Star College; Lynn Povich, Keynote Speaker; and Heba Ramadan, LSC-Tomball. Lynn Povich entertained the crowd with a play-by-play of the controversial class action lawsuit filed against Newsweek by 46 female employees on the basis of sex discrimination in 1970, and is the bestselling author of "Good Girls Revolt." Read more >
---