Connecting Endowment Donor and Scholarship Recipient
"Just imagine, there is someone out there who has never met you, and yet, they believe in you and want to support you in your education."
This was the reaction of Brandon Kerns, recipient of the John A. and Annice B. Nanninga Endowment Scholarship, when he was presented with the opportunity to meet the daughters of the late Mr. and Mrs. Nanninga, Beth Grijalva and Ann O'Toole.
Brandon, a native of The Woodlands, experienced intense family turmoil in 2013, during his senior year at The Woodlands College Park High School. As a result, he did not receive his diploma and worked for a year in a minimum-wage job.
"I realized I didn't want to work for minimum wage for the rest of my life, and basically, I took ownership of my life and my future, and I enrolled at Lone Star." Brandon is now a freshman in the Honors College, with dreams of eventually earning his master's degree in environmental science. Says Brandon, ""I dream of educating our country and other countries on ways to utilize resources, to start processes in a more 'green' manner in the first place, for long-term benefit. I want to contribute to and change the world in some way with my environmental science background and solutions."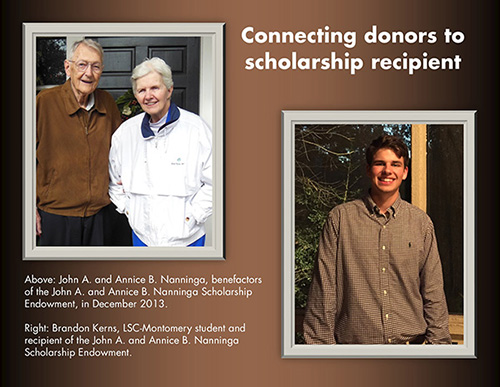 Naturally, Brandon was very curious about his benefactors, Mr. and Mrs. Nanninga, and Beth and Ann were interested in meeting a student their parents' endowment was helping. The endowment is especially meaningful to Beth and Ann, as well as their brother Thom Nanninga who was unable to make the meeting, because it was started by their father to honor their late mother and the work of both parents in getting the state legislature's and voters' approval necessary to create North Harris County Junior College - which expanded and evolved into Lone Star College.
As Thom said by phone, "The area was growing and they saw the need." "Dad was very pleased and proud of the asset Lone Star College has become for the entire community," said Beth. It was great to get a student's perspective as well.
Brandon explained that, initially, Lone Star was his college option because it was local and it was affordable.
"We understand taking a different path to get through college,' said Ann. "Some people know exactly what they want to do, and some people don't."
"It's a journey, and that is all part of the growth and maturity process," added Beth.
But Brandon found Lone Star College to be more than he'd hoped for.
"I fell in love with Lone Star," says Brandon. "Growing up I knew I had a knack for school, but I really learned to love school at Lone Star. For example, I didn't know how much I love history! But Dr. Livingston is making me love history, and this summer I spent so much time seeking out civil war sites every chance I got."
For the Nanninga family, meeting Brandon and other scholarship recipients has proven that the endowment their father began and they expanded when he passed, was the perfect tribute to their parents.
"We didn't do this for recognition," explained Thom. "We did it to honor their involvement in the vision and formation of what is now Lone Star College. We did it to continue the way they would see someone was working hard and struggling and give them a leg up."
John and Annice believed in working hard, improving yourself and improving your community. They enjoyed helping others reach those goals. Beth and Ann recalled when their father helped his sister, a single mother who had put four daughters through college, pay tuition for one of the girls to go to graduate school. "This is not a loan. I don't expect to be paid back. All I ask is that they help others when they can," he told them.
The scholarship endowment at Lone Star continues that legacy. "What's amazing," Beth said, "is that for less than the cost of a single semester at a private university, the Lone Star College Foundation allows you to make an endowment that will give a student the ability to continue their studies and then continues that gift year after year. It doesn't take millions of dollars to change a life. Lone Star makes is easy to give, and meeting Brandon and other students makes it a pleasure."
"Well, I hope to pay it forward, just like your parents did," Brandon replied before heading off to his next class.