Johnson Controls awards $100k grant for LSC-North Harris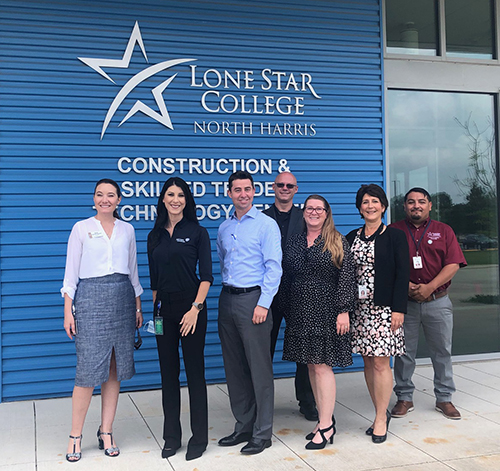 Pictured (left to right) are Nicole Robinson Gauthier, CFRE, LSC Foundation executive director; Candice Ann Palacios, JCI Lead Systems specialist II; Britt Willows, JCI Houston general manager; William Pepperman, JCI senior technician; Charis Prejean, LSC grants developer; Beth Thompson, LSC Resource Development executive director and Osvaldo Caballero, LSC Construction Technologies director.
Lone Star College has received $100,000 as part of the Johnson Controls Community College Partnership program, which aims to equip students with in-demand knowledge and skills that will support employment and a pathway for life-long careers upon graduation. In addition to the funding, Johnson Controls employees will support LSC through volunteering and mentorships, providing students with real-world experience, internship opportunities and professional networking connections.
"As we begin another hot summer, we are reminded of the important role HVAC-R technicians play in our lives," said Nicole Robinson Gauthier, CFRE, LSC Foundation executive director. "This generous award from Johnson Controls will help to train the next generation of skilled workers."
LSC is one of 10 community colleges receiving grants for the 2021?2022 academic year. The grant is provided by Johnson Controls in an effort to expand associate degree and certificate programs in heating, ventilation and air conditioning (HVAC), fire and security and digital building automation systems, all areas where the U.S. Bureau of Labor is predicting an increased need for skilled trades expertise in the coming years. In general, the funding will support the purchase and development of classroom materials, learning technologies and student scholarships.
The grant funds will be used to increase enrollment and completion in students who complete all three certifications as well as increase the number of students graduating with AAS degree in HVAC/R or Electrical Technology. Increasing student enrollment, retention and graduation will ultimately lead to an increase in the number of "job ready" skilled technicians in the Houston area.
The Electrical Occupational Entry Certificate provides students a foundation of AC/DC circuits, electrical safety, basic print reading, NEC 2 and residential/commercial skills for entry-level employment. The Level II Certificate gives students motor controls skills such as AC/DC motors, sensors, relays, motor starters and controls circuits as well as PLC skills.
The funds will also go toward increasing student retention for second-year students to pursue an AAS degree by providing scholarships for those who complete three stackable credentials and enter the AAS degree programs.
"Johnson Controls is proud to build upon our significant presence in the city by partnering with Lone Star College on the Community College Partnership Program. We believe the program will empower people to build life-long careers that will transform their lives and the city," said Grady Crosby, VP of Public Affairs and chief diversity officer at Johnson Controls. "Just as smart, healthy buildings are critical to our well-being, well-educated and trained technicians are crucial to keeping our environments operating safely and efficiently. As a leader in the building industry for over a century, Johnson Controls is honored to share our expertise with the country's leading community colleges."