StarGala Online Auction a resounding success!
For the second year in a row, the premier fundraising event for LSC Foundation went virtual with an online auction that ran for a week in April and raised nearly $180,000!
StarGala
proceeds support student scholarships and programs at all seven campuses. This year, auction items included autographed sports memorabilia, socially distanced vacation packages, jewelry and much more!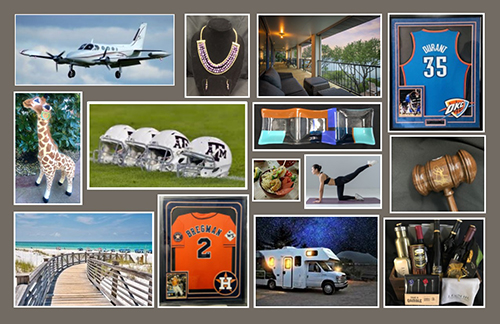 "The support of sponsors and donors has been impressive. Even during a pandemic, the community cares about student success and the future of Lone Star College," said Foundation Executive Director Nicole Robinson Gauthier.
Instead of gathering in a ballroom and enjoying the evening's program and entertainment, "guests" were encouraged to view a digital program while VIP sponsors signed on to a virtual reception with Chancellor Dr. Steve Head and his wife, Linda Leto Head. Prior to the reception, the VIP sponsors received care packages that included engraved champagne glasses, champagne, and delicious snacks.
"The online auction has gained participation, even from outside of our community, to raise funds for student scholarships. We plan to continue the online auction as part of the annual StarGala celebration for guests, families and friends to enjoy," said Laura Brown, Director of Foundation Special Events.
A special thank you goes out to LSC-Marketing and Web teams for their technical expertise as well as our many sponsors and underwriters! StarGala 2021 would simply not be a success without Foundation supporters. CLICK HERE to see the full list of sponsors. CLICK HERE to hear a thank you message from the Foundation Executive Director.