Mini Grants improve student experience
Funded by LSC Foundation, Mini Grants provide financial support for innovative ideas from employees that improve student learning and address the college's goals. These grants provide an opportunity for faculty and staff to try new projects not normally funded through the regular budget. Although the pandemic put some projects on pause, many others have improved the student experience across Lone Star College's 1,400 square mile service area and online.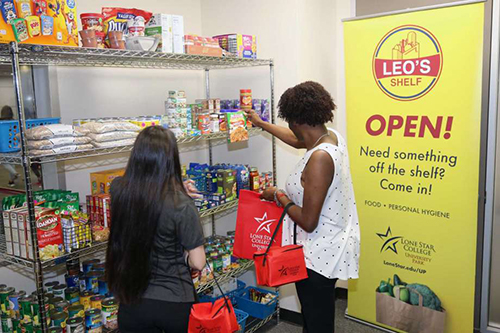 Leo's Shelf at LSC-University Park
For the 2019-20 academic year, 27 projects from LSC's seven colleges and system office were awarded small grants to assist students enrolling in classes, improve writing and research skills, and more. LSC-Tomball's Creekside Center did not have a permanent Continuing Education Advisor at that location to assist students who wished to enroll, so their mini grant funded iPads to set up virtual advising sessions with advisors located at LSC-Tomball.
"I would connect the student with the advisor utilizing the iPad we purchased with the Grant. I surveyed the students and they really enjoyed the service and the fact that they did not have to leave Creekside to be "seen" by their advisor. It was a "win/win" for all," said Amy Galaviz, Division Operations Manager.
Lone Star College's newest college, LSC-Houston North, received several mini grant awards including funding for their newly created writing center. Students receive one-on-one help with grammar, writing assignments and more. "With this grant seed money, the Panther Writing Center was born, and I was able to purchase Grammarly [software] for students to utilize in the Center," said Bernice Klink, Specialist Library Services.
Meanwhile at LSC-North Harris, librarians Katherine McGittigan and Megan Hopwood made student learning fun by incorporating it into a game. "[We watched] a YouTube video of another library doing a citation relay, where students worked in teams to complete a citation on the board in a relay race. We loved how engaged the students were with the content and were having so much fun. It got us talking about ways we could apply that model of learning to other parts of the research process, and it took off from there," she said.
Like many other campuses, LSC-University Park saw many students dealing with food insecurity so their mini-grant helped establish an on-site food pantry called Leo's Shelf. Other grants supported student success with new learning spaces, technology-based learning tools, and resume-building events.
Other funded projects include:
Small white boards for active learning, LSC-CyFair
Developing Skills Sets and Concepts, LSC-CyFair
Environmental water Quality & Soli Analysis Laboratory Activities, LSC-CyFair
Development of the STEM Academic Support Services, LSC-Houston North
Mobile Advising, LSC-Houston North
Sit and be Sick!, LSC-Houston North
Exercise your body while you exercise your mind, LSC-Houston North
Applying Environmental Science - Community Phytoremediation of Polluted Soils, LSC-Kingwood
Seed Library, LSC-Kingwood
Ensemble in Residence - Texas New Music Ensemble, LSC-Montgomery
Enhancing realism and culture diversity in Simulation, LSC-Montgomery
The Landing, LSC-Montgomery
HP DesignJet T520 Poster Printer, LSC-Montgomery
Expanding Visual Composition through Academic Posters, LSC-North Harris
The Student Success Escape Room, LSC-North Harris
Computer for Online Tutoring in the Psychology Lab, LSC-North Harris
OnBase PDF Framework add-on, LSC-System Office
Dyslexia Awareness Project, LSC-Tomball
Family Friendly Study Rooms & Kits, LSC-Tomball
Student Research Project Presentation Poster Printing, LSC-Tomball
Performance Health Conference, LSC-University Park
Piper Computer Project, LSC-University Park
LSC-UP Student Ally Program, LSC-University Park