Laptop, Internet donations make online classes possible for many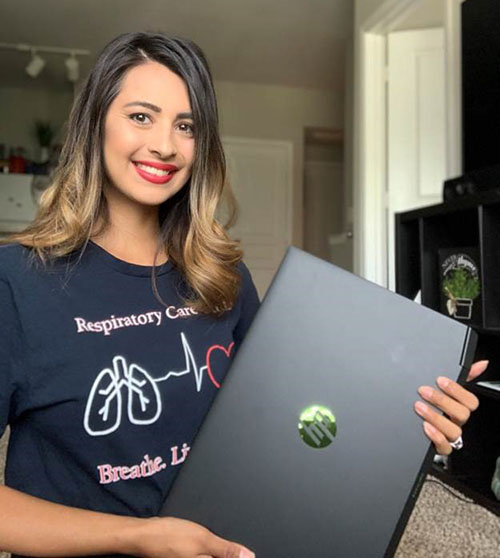 LSC-Kingwood student Krysten Garza with her new laptop.
With the health and safety of students and employees the top priority, Lone Star College converted most of their classes to online beginning in March to help prevent the spread of the COVID-19 virus. Students were already well into the spring semester and just as they were planning to return from spring break, classrooms closed. Thousands of students must now attend classes virtually, an impossible task for many until generous donors provided laptops, web cameras and internet access so their dreams of a college education would continue.
"My eyes lit up and I had the biggest smile when I opened the box. I am so blessed and thankful that there are people out there spreading love and kindness during this hectic time," said student Krysten Garza when she received a new laptop in the mail.
An anonymous donor paid for more than 50 laptops and web cameras for LSC-Kingwood students to resume school almost immediately. Lone Star College Foundation placed orders and laptops were delivered to students in just a few days!
Prior to the state-wide stay at home order, the majority of students attended classes in person and had access to computers and internet at school. Now, in addition to losing those vital educational resources on campus, many others find themselves out of work as virtually all businesses closed temporarily. LSC has helped many students in need through the different campus student emergency funds which can go towards items like bills.
"The ability to help our students remain connected to their classroom is incredible," Nicole Robinson Gauthier, LSC Foundation executive director said. "In so many cases, the delivery of a computer was the difference between a completion of a class or a withdrawal."
Another source of generous funding became available when Wells Fargo redistributed their grant funding. Wells Fargo originally awarded a $10,000 grant to LSC-Houston North to run an adult literacy class. With those classes cancelled, Wells Fargo graciously reallocated funds towards immediate student needs and allowed laptop and wi-fi purchases. "Thank you for the way Lone Star College continues to care for all the needs of its students. We're proud to support its efforts to ensure that students are able to stay connected and continue their education while at home during these unprecedented times." said Tom DeBesse, Wells Fargo Houston North Region Bank President.
If you're interested in helping deserving students with their school supplies, click HERE.