Lone Star College Foundation announces new board members
HOUSTON (Aug. 26, 2015) - The Lone Star College Foundation is pleased to announce that Fred Caldwell and Lori Klein Quinn have been appointed to its board of directors.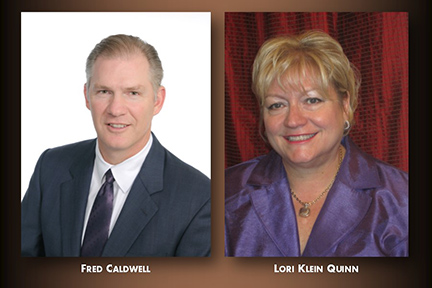 Caldwell, a Cypress area resident, is the founding partner, president & CEO of Caldwell Cos. and was the LSC Foundation StarGala 2015 honoree. As a long-term community leader, Caldwell sits on the board of directors for the Cy-Fair Educational Foundation and the Lowry Mays College & Graduate School of Business Development at Texas A&M University. He was also named an influential honoree for the Cypress-Fairbanks Independent School District's 75th Anniversary and served as an executive board member for the 12th Man Foundation at Texas A&M.
Caldwell's commitment to LSC is evident in his support of student scholarships. He and his company have three endowments at LSC-CyFair and one at LSC-University Park, including: Caldwell Cos. with six endowed scholarships awarded annually; Susan J. Caldwell with five endowed scholarships awarded annually; In Honor of his mother, Nancy F. Caldwell, he also awards two scholarships; as well as the Caldwell Cos. Endowment in honor of Dr. Richard Carpenter with one scholarship awarded annually.
Lori Klein Quinn is a longtime Tomball resident with deep family roots in the area. The owner of Klein Wealth Management and L. Klein and Co., PC; the combined firms cover six areas of planning; tax, investments, retirement, estate, small business consulting and asset allocation.
Klein's association with the LSC Foundation dates back to 1991 when she served as one of the founding members of the LSC Foundation board. In 2001 she was the LSC Foundation StarGala honoree, and in 2014 Klein Wealth Management was awarded the 2014 LSC Small Business of the Year for the LSC-Tomball area by the LSC Small Business Development Center
Quinn currently serves as city of Tomball Council member and mayor pro tem, board member for the Tomball Economic Development Corp. and recently served from inception on the board for the Grand Parkway Association (Texas Transportation Commission). Additionally, Quinn was the recipient of the Outstanding Texan Award from the Texas Jaycees and was named the 2009 Tomball Citizen of the Year.
"We are thrilled to have these talented community-minded leaders join our already stellar board of directors," said Leah Goss, LSC chief advancement officer. "We are excited to have Fred and Lori help us enhance LSC Foundation efforts to increase student scholarships, program support, and faculty development for the college."
The mission of the Lone Star College Foundation is to change lives through student scholarships and quality educational programs achieved by excellence in relationship building, fundraising and investment management.