The 24th annual Drive for Scholarships golf tournament raised more than $150,000 towards student scholarships and programs at Lone Star College. The event held November 20 at The Woodlands Country Club Palmer and Tournament courses brought together 230 golfers for a day at the links followed by dinner and raffle prizes.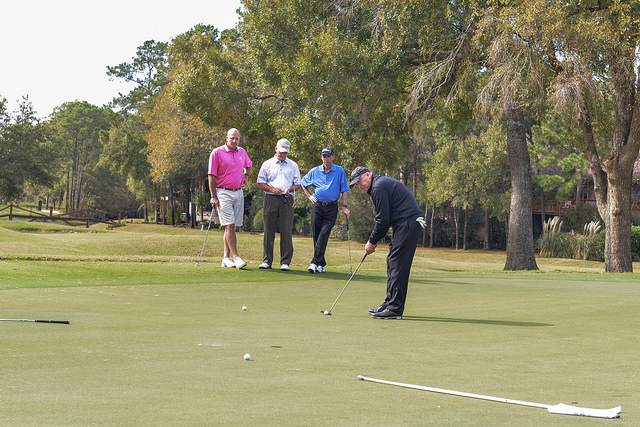 Chancellor Steve Head attempts a put at the Tournament Course
"We're a big fan of Lone Star College and the great work the college does for students in providing affordable education and quality education", said Ron Roberson of Caldwell Companies.
Funds raised from the tournament go towards scholarships and programs that support the college. Last year's golf tournament produced 27 golf scholarships to students across our six campuses.
A special thank you to our Tournament sponsor, Follett and dinner sponsor, Consolidated Communications. Fred Greene won the raffle for an iron set and driver generously donated by Henry T. Brooks Investments. Awards from the day went to:
Tournament course 1st Place Low Gross- Dell EMC/Unique Digital Tournament course 1st Place Net- Troxell Palmer course 1st Place Low Gross- Caldwell Companies, RBC Capital Group and Team Rob Eissler Palmer course 1st Place Net- Don Middleton LLC, Linebarger Attorneys at Law, and Precision Task Group.
Check out our Facebook page and Flickr for photos from the tournament! Watch the wrap up video HERE. Next year's golf tournament is scheduled for Monday, November 19, 2018 (Monday prior to Thanksgiving), and we hope to see everyone back to support our students!