Chancellor's Donor Appreciation Lunch: Start Close. Go Far.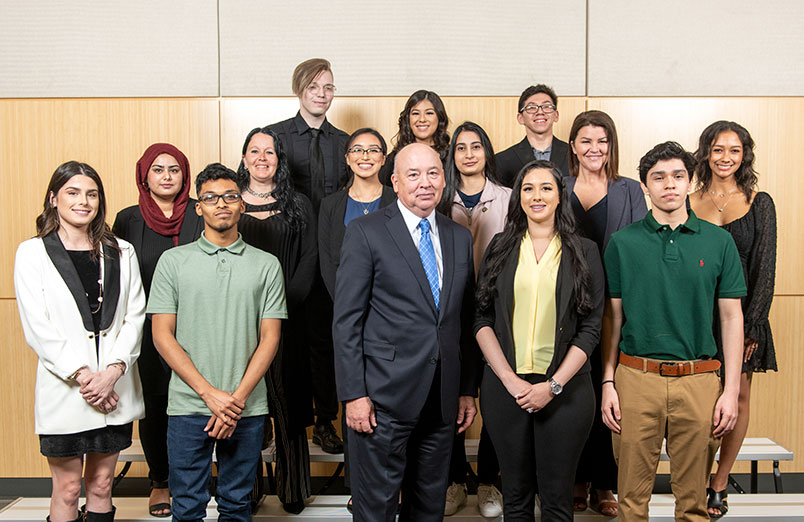 Students from across the Lone Star College system shared personal stories of achievement and commitment that helped them succeed in their education during the 29th annual Chancellor's Donor Appreciation Lunch.
"This event helps remind me what an important role Lone Star College plays in the lives of our students," said Stephen C. Head, Ph.D., LSC Chancellor. "I am proud of their efforts and grateful to them for sharing their personal stories with our donors."
The Chancellor's Donor Appreciation Lunch, sponsored by Entergy Texas, Inc., recognized 14 LSC students, two from each college, for their winning essays. Each student received a $1,000 scholarship made possible by the generosity of LSC Foundation donors and supporters.
Eric Rivas, LSC-CyFair; Jonathan Amaya, LSC-Houston North; Elizabeth Preston, LSC-Kingwood; Tara Yeakey, LSC-Montgomery; Elizabeth Guajardo, LSC-Houston North; Madison Terry, LSC-Tomball; and Urooj Rajput, LSC-University Park were selected to read their essays to the lunch attendees.
LSC Foundation scholarships were also awarded to Marrz Lundquist, LSC-CyFair; Destiny Ipina, LSC-Houston North; Demarco Rodriguez, LSC-Kingwood; Angelina Gamez, LSC-Montgomery; Shiza Rubab, LSC-North Harris; Annette Preston, LSC-Tomball; and Hien Doan, LSC-University Park.
"Listening to these students share their stories was personally inspiring," said Nicole Robinson Gauthier, CFRE, LSC Foundation executive director. "I am grateful to the many generous individuals, families, businesses and foundations which help Lone Star College students achieve their dreams with these scholarships."
LSC students were invited to participate in the essay contest to write about "How my Lone Star College experience has influenced my life." Winners were selected by campus committees before the lunch event, which was held Feb. 16 at the Lone Star Community Building in The Woodlands.
Congrats to all of the winners!
Scroll below and click on the student's photo to hear from this year's student essay winners who spoke at the Chancellor's Donor Appreciation Lunch.