"Alternative Spring Break" medical mission trip: Impacting the giver and the receiver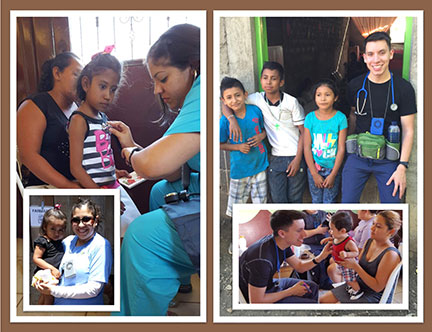 Mention "Spring Break" and the thought that often comes to mind is convertibles and crowded beaches filled with rowdy students. Not so for the Lone Star College students who participated in "Alternative Spring Break," a program coordinated by the Center for Civic Engagement and funded by LSC Foundation donations and Lone Star College.
"Alternative Spring Break provides students with a meaningful and productive way to spend their spring break," says Dr. John J. Theis, Director of the Center for Civic Engagement. "Students learn about different social issues such as poverty, immigration, homelessness, and inequality by working on service oriented projects with community based organizations that address these challenges."
A spring break medical mission trip to Nicaragua gave students an opportunity to experience extreme poverty and medical needs in under served and impoverished third world countries. "What was special about this trip," says Dr. Theis, "is that students saw the passion for service that the Nicaraguans share, as well as their positive outlook on life in the midst of dire living situations."
Students studying in health related fields served on this medical mission as members of the triage team, performing general assessments and taking vital signs and blood glucose from entering patients before they received a more detailed assessment and prescriptions from the doctor. Patients also had the option to see the dentist for cleanings and extractions, as well as an eye doctor for reading glasses.
Two LSC students are excited to share their experiences from this mission trip: James Oakes, a second-year nursing student who will graduate this August; and Ericka Rodriguez, a second-year Respiratory Care student who will graduate in December 2016.
Q: Tell us about how this trip impacted the people you served.
James: The people were grateful as they received the necessary care they desperately needed. I was thanked by so many, simply for applying the skills I've acquired to those who needed it.
Ericka: A highlight of the trip was when I handed over new eye glasses to a patient, and she jumped out of the chair exclaiming, "I can see, I can see!" Even though we were not fulfilling her complete need, it was a great help to her and I believe that the glasses will potentially better her life in some way or another.
Q: Tell us about how this trip impacted you as a student and as a person.
Ericka: This trip has better confirmed my desire to be in the medical field as I want to help those in need, no matter what their financial status, skin color, or language.
James: As a student, it motivated me to continue performing well in my academics so I can continue to provide care to those in need.
Q: What is your advice to those considering participating in a medical mission trip?
James: I believe everyone should participate in a volunteer activity as often as possible. Simply providing your assistance goes a long way for those who receive it.
Ericka: I believe that helping others is something that we all should do if we are in the position to do so. It not only helps the recipient, but the giver is rewarded in so many ways...through the smile of a child, or a hug from a parent who thought they would never have the opportunity to get some kind of medical attention for his or her family.
Q: What's in store for you in the future?
Ericka: After graduation in December, I plan to pursue my bachelor's degree in Respiratory Therapy. I do not plan to stop there because there is always room to grow as the medical field is ever changing.
James: My future plans include obtaining my PhD in Nursing and Public Health, which will expand my opportunities to provide solutions to common public health concerns while working for the CDC.
Click HERE for more information on the Center for Civic Engagement, and HERE for more information on alternative spring break trips.