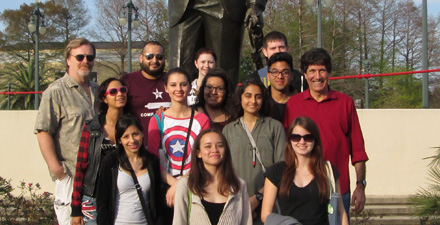 Alternative Spring Break provides students with the opportunity to work on service oriented projects with community based organizations over the course of their spring break. Through the program, students learn about different social issues such as poverty, immigration, homelessness, and inequality by engaging themselves directly with the work of organizations that address these challenges.
Alternative Spring Break Application
(Application is below)
General Information
Alternative Spring Break is sponsored by the Center for Civic Engagement. The mission of the center is to "encourage students, faculty, and staff to become active citizens involved in their communities by providing opportunities and resources to engage in service oriented community activities." The ASB program allows students to use their time during Spring Break to serve others and work toward community change.
Transportation, food, and lodging are included in the cost of registration for each ASB trip. Students are expected to cover a portion of the trip, and scholarships are available through the Center for Civic Engagement for those with financial need. Other costs such as entertainment, tourist attractions, or souvenirs will be at the student's responsibility and at their discretion.
Students should pack lightly. Each participant will be allowed one piece of luggage the size of an airline carry on (14 inches x 9 inches x 22 inches) plus one personal item such as a purse or backpack.
As representatives of LSC Kingwood, students will be expected to follow all regulations in the LSC Student Handbook in addition the expectations and responsibilities described in this application.
Alternative Spring Break 2017
March 11-19, 2017
Domestic
**CLOSED**
Civil Rights and the Blues
Location: Mississippi
Duration: 8 Days
Cost: $300/Student
This is a week-long trip through some of the most historic country in the United States. Beginning in New Orleans, we move up through Oxford and Memphis and then turn southward about midway through the journey for an excursion through the Mississippi Delta. Along the way, we study music, food, and history by visiting the places where so many epochal developments occurred and talking to some of the people who were involved in that history. By the time we head home, students and faculty guides will have shared an incredible learning experience.
**CLOSED**
Prison Plantation: Criminal Justice and Reform
Location: Angola, LA
Duration: 6 Days
Cost: $300/Student
The trip will explore not only the rich history of the United States' largest maximum security prison, Angola Prison, but also give students the opportunity to tour the facility, interact with inmates (limited) and learn of their day-to-day routine. We will also do service work in the city of New Orleans with the Ashe' Cultural Arts Center whose mission is to use art and culture to support human, community and economic development in the New Orleans area, specifically the Central City neighborhoods.
**CLOSED**
Arizona Indian Nations
Location:
Dates: March 12-18, 2017
Cost: $500/Student
Students will spend the week working in the Arizona Indian Nations with students from Maricopa Community College while learning about Native American culture and tribal governance. The trip ends with a visit to the Grand Canyon.
International
**CLOSED**
Medical Mission Trip to Nicaragua
Location:Nicaragua
Duration: March 9-16, 2017
Cost: $1,000/Student
This trip will explore underserved areas of Nicaragua and give students an opportunity to experience extreme poverty and medical needs in third world countries. In past trips, students worked side-by-side with American nurses, nurse practitioners, and a Nicaraguan physician, dentist and optometrist. We see the passion for service that the Nicaraguans share, as well as their positive outlook on life in the midst of dire living situations.
**CLOSED**
Savage Inequalities: Understanding Poverty and Education in Central America
Location:Nicaragua
Dates: March 10-18, 2017
Cost: $625/Student
The trip will explore the culture, education, and poverty in the Central American country of Nicaragua. We are partnering with an agency called La Esperanza Granada, and NGO that focuses on community empowerment and providing quality education in one of the most economically distressed barrios outside the city of Granada. We will further explore the indigenous cultures of Miskito, Afro-Creole, and Mestizo in the southeast, Blue Fields.
We hope to expand the students' world view through comparing and contrasting the educational systems, the culture, the economy, and the inequalities in the daily life of Nicaraguan citizens.
Alternative Spring Break Application
Make LSC part of your story.