Veteran Advising Services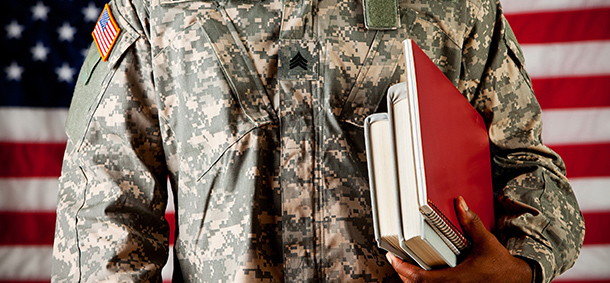 Ready to Register
Step 1: Speak wtih an advisor by email, phone or in-person
Step 2: Choose a major LoneStar.edu/Workforce
Step 3: Apply to Lone Star College LoneStar.edu/Admissions
Step 4: Request military transcript
Step 5: Apply for VA benefits
GIBILL@LoneStar.edu or call 281.290.2922
Step 6: Advisement, prior work experience and registration
Students receiving benefits from Veterans Financial Services must comply with VA rules and regulations. To avoid over payment, all transcripts must be evaluated and credit(s) applied prior to certification of courses for benefits. Students are highly encouraged to have their military transcript evaluated to register for classes.
Work Study Positions Available
Veteran Financial Services is currently accepting applications, along with a resume and cover letter, for VA Work Study positions. Please email gibill@lonestar.edu for more information.
VetSuccess on Campus
The VetSuccess on Campus program is a collaborative effort between Lone Star College and the Department of Veterans Affairs (VA) with the purpose of providing a supportive, on-campus environment for student veterans.
For more information, contact Seketha Cook at 713-515-1608.
MISSION
To lead in the educational achievements of military veterans and those military-affiliated student populations – to continue to engage in mentorship and professional development of those who have and continue to serve and sacrifice for liberty and freedom.
To become a model of excellence with regard to providing best in class access to post-secondary education by embracing the spirit and intent of true advocacy on the part of the military-affiliated and traditionally under-served student populations.
Please contact Veteran Advising and Financial Services if you have any questions or concerns at GIBILL@LoneStar.edu or call 281-290-2922.

Campus Veteran Liaisons
Students using GI Bill benefits and Tuition Assistance (TA) must meet with their Education Service Officer (ESO) and Campus Veteran Liaison prior to enrolling in classes to ensure eligibility requirements.
Veterans Advising Services
LSC-MilitaryServices@LoneStar.edu
832-519-2867
Veterans Financial Services
GIBILL@LoneStar.edu
281-290-2922