Scholarships
Scholarship Deadline Extension
Attention students! We have extended the scholarship deadline! Do not delay!
We have extended the scholarship deadline to November 1, 2018. If you are interested in applying for our Lone Star College scholarships, please contact your campus Financial Aid Office to complete and submit a paper application directly to the office. Each Financial Aid office will have paper applications available for your to submit in person! If you have any questions, please contact the Financial Aid office at 281-290-2700.
What Are Scholarships?
Scholarships are a type of financial aid that does not need to be repaid. Scholarships are awarded on various criteria usually reflecting the values and purposes of the donor of the award. Scholarships can be based on merit, need, demographics, or career focus.
LSC Scholarships
Select a campus for information on campus-specific scholarship opportunities:
Each year the Lone Star College Foundation announces a variety of endowment and special scholarships made possible by the generous support of many individuals, families, estates, businesses, corporations, and/or foundations.
The student will need to login to myLonestar and complete the Scholarship Application.
NOTE: Some scholarships may require a FAFSA to be completed before eligibility can be determined. Also, a scholarship will not be awarded to the student if, when combined with all other resources (Pell, other outside scholarships, loans, WIA, TRC, etc.), would exceed the student's unmet need.
If the student is awarded a scholarship, they will need to send a thank you letter to the donor. Please reference the thank you letter example.
Lone Star College Promise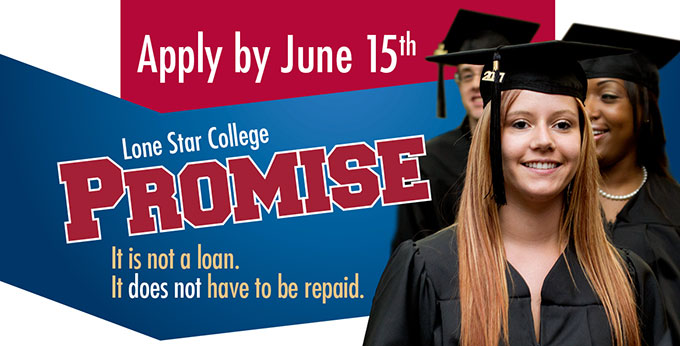 The LSC Promise will fund the balance of tuition and mandatory fees due for students that still demonstrate financial need after all grant and scholarship awards are used to pay for tuition and fees. Books are not covered. It is not a loan and does not have to be paid back.
East Montgomery County Scholarship Foundation

The East Montgomery County Scholarship Foundation (EMCSF) offers a $500 merit-based college scholarship available to deserving students who plan to continue their college education. The scholarship will be awarded to students who demonstrate academic excellence, leadership and service, and financial need.
Learn about more opportunities to pay for college through federal, state and workforce grants that are available to Lone Star College students.