About Lone Star College
Nationally recognized, globally connected, locally focused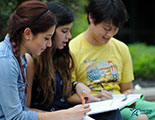 Lone Star College is the largest institution of higher education in the Houston area and one of the fastest-growing community colleges in the nation. Not only great in size, LSC is a key driver and growing contributor to the local and regional economy with an annual economic impact of nearly $3 billion.
Students rely on Lone Star College for Associate Degrees, certifications for work in high-demand industries, and credits that enable them to transfer anywhere. In fact, LSC provides more than 170 programs of study close to home. No wonder 99,000 students choose Lone Star College!
Affordable Access
LSC understands the balance between work, family and completing an education — that's why it offers the most affordable, high-quality higher education option in the region, close to home, at a fraction of the cost of a four year university.
Attending LSC is more affordable than other state institutions. Attending LSC saves students, and their families, thousands per semester.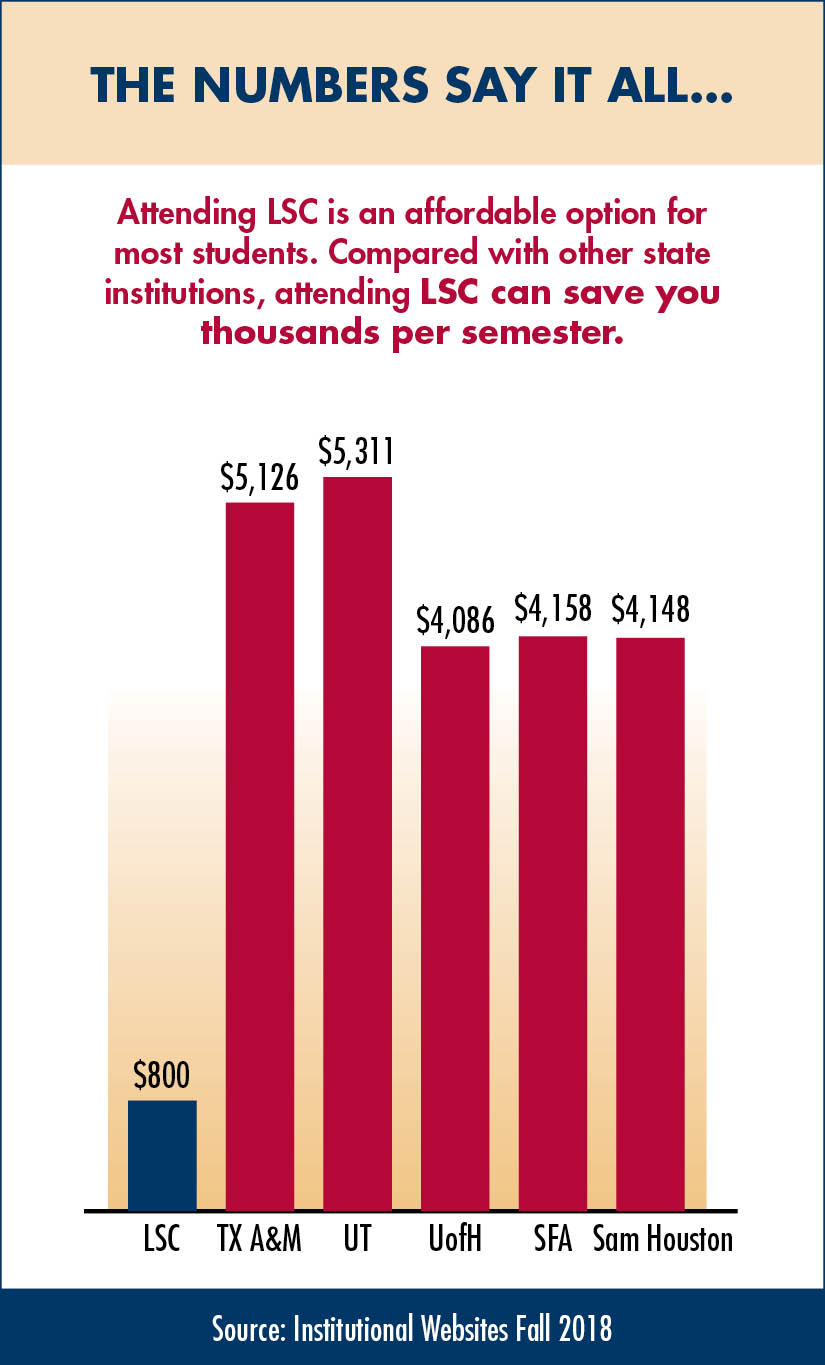 source: Net Cost Calculator Resident Tuition and Fees, based on 12 hours/semester
Choice of more students
LSC is the choice of area high school graduates – 5,651 high school graduates attended LSC in fall 2016.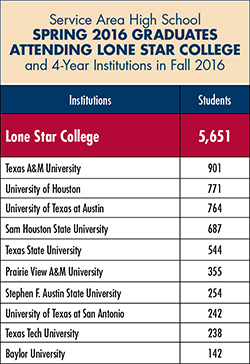 Committed to Student Success
A national leader in conferring degrees and dedicated to student success and credential completion, Lone Star College is:
Recognized nationally as a Top 10 Associate Degree Producer
Leading the Texas Reverse Transfer Initiative, in collaboration with The University of Texas, a key strategy in Texas' goal of increasing higher education degree attainment
Leading the Texas Completes effort statewide to dramatically increase college completion rates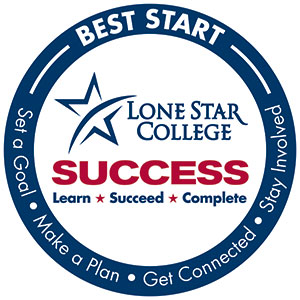 Proven Financial Management
LSC is fiscally responsible and maintains a AAA Bond Rating from Standard & Poor's Rating Services – enabling LSC to borrow money at lower interest rates. LSC's credit rating was increased eight times in the last 10 years. In addition:
The LSC tax rate is lower than it was 15 years ago. Also, the Board of Trustees has lowered the tax rate 6 of the last 10 years. (11.45 cents/thousand (2004) vs. 10.78 cents/thousand (2018)).
LSC has received a Certificate of Excellence in Financial Reporting recognition each year since 2004.
LSC maintains a tax freeze for residents age 65+ and/or disabled which means the actual dollar amount owed will never increase, even if the property value increases.
At a Glance
Chancellor: Stephen C. Head, Ph.D.
Founded: 1972
Student Enrollment: 99,000
Colleges: 6

University Centers: 2
Additional Centers: 10
Partner ISDs:11
2018-2019 Operating Budget: $381,966,088

view more facts about Lone Star College
We're Close To Home
Campuses
Accreditation
Lone Star College is accredited by the Southern Association of Colleges and Schools Commission on College to award Associate of Arts, Associate of Arts in Teaching, Associate of Science and Associate of Applied Science Degrees.
Contact the Commission on Colleges at 1866 Southern Lane, Decatur, Georgia 30033-4097 or call 404-679-4500 for questions about the accreditation of Lone Star College.
Accredited since 1976, Lone Star College's accreditation was reaffirmed in 2012.
Leadership
Board of Trustees
District 1: Michael Stoma
District 2: Ernestine M. Pierce
District 3: Alton Smith, Ed.D.
District 4: Art Murillo
District 5: David A. Vogt
District 6: Myriam Saldívar
District 7: Linda S. Good, JD
District 8: Mike Sullivan
District 9: Ken E. Lloyd
Chancellor's Cabinet
Stephen C. Head, Ph.D.
Chancellor
View Profile
Mario K. Castillo, J.D.
Chief Operating Officer & General Counsel
Division Website
Link Alander
Vice Chancellor, College Services
View Division
Helen Clougherty
Vice Chancellor, Chief of Staff, Board Liaison
Division Website
Dwight L. Smith, |||, Ed.D.
Vice Chancellor, Academic Success
Alicia B. Harvey-Smith, Ph.D.
Executive Vice Chancellor
View Division
Jennifer Mott
CFO
View Division
Quentin Wright, Ed.D.
Special Assitant to the Chancellor
College Presidents
Shah Ardalan, Ed.D.
President, Lone Star College-University Park
View Profile
Seelpa Keshvala, Ph.D.
President, Lone Star College-CyFair
View Profile
Gerald F. Napoles, Ph.D.
President, Lone Star College-North Harris
View Profile
Lee Ann Nutt, Ed.D.
President, Lone Star College-Tomball
View Profile
Katherine Persson, Ph.D.
President, Lone Star College-Kingwood
View Profile
Rebecca L. Riley, Ed.D.
President, Lone Star College-Montgomery
View Profile
Our Mission

Lone Star College System provides comprehensive educational opportunities and programs to enrich lives.
Our Vision

Lone Star College will be a model college globally recognized for achieving exceptional levels of success in student learning, student completion, gainful employment, equity and affordability.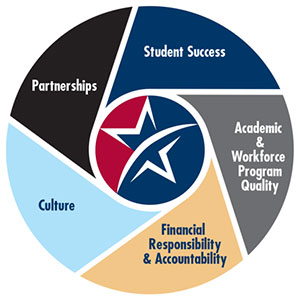 LSC Focus Cultural Beliefs
We Make a Difference
Our graduates help keep our community safe
84% of all emergency first responders (fire, police, EMS) are trained at community colleges like Lone Star College
60% of all health care workers are trained at community colleges like Lone Star College
Lone Star College is the college of choice
1 in 4, or 25%, of May graduates from area high schools attend LSC in the fall
13,000+ high school students take dual credit courses, earning simultaneous high school and college credit, to accelerate their college completion
Associate Degree graduates earn, on average, 25% more than high school graduates
70% of Texas bachelor's degrees are awarded to students who attended a community college like LSC
We provide the education and training to meet area employers needs
65% of all jobs will require postsecondary training by 2020. A strong workforce equals a strong community.
We provide educational programs for all ages
Academy for Lifelong Learning for residents 50+
Discovery College summer programs for youths
Extraordinary Growth
Lone Star College serves an area of more than 1,400 square miles with a population of 2.1 million including some of the fastest growing communities in the state. In the past four years alone, the LSC service area has grown by 176,000 people, more people than 39 U.S. states added during the same time period. An additional 242,000 people are expected to increase the region's population to 2.55 million by 2019.
The workforce in the LSC area has grown by 9% in the past five years. From fall 2006 – fall 2016 LSC added more than 39,000 credit students — a 86% increase.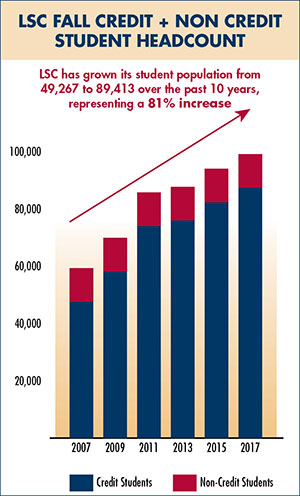 Community College Advantage
Lone Star College is close to home.
Lone Star College is affordable.
Lone Star College wants you to succeed.
Careers. Not just jobs.
LSC offers a wide variety of degree programs designed to prepare you for employment in a specific career. See the Programs We Offer
Start here. Transfer anywhere.
LSC Advisors can assist you in applying for admission, choosing courses that will transfer to your desired university, and assist you with the registration process. We're here for you! Learn How to Transfer to a University
1/5 the cost of UT Austin.
Consider this: Many students leave four-year universities with a diploma but empty pockets and the burden of school loans for years to come. With higher education costs on the rise, Lone Star College is one of the most affordable options today to earn a college degree, certificate or continuing education hours. See our Tuition & Fees
Funding
Budget 2018-2019 - $381,966,088
Funding Sources 2018-2019
Property Tax - $161,159,785
State Funds - $77,983,684
Misc. Activities - $17,624,693
Tuition & Fees - $103,370,990
Student Fee In
Lieu of Taxes* - $21,045,036
*Student Fee in Lieu of Taxes - Out-of-District/State/International Fees
Property Tax Rates
Maintenance and Operations - $0.0800
Interest and Sinking - $0.0278
Tax Rate Total - $0.1078
The 2018 tax exemptions are as follows:
Homestead Exemption $5,000 or 1 percent (whichever is greater)
Over 65 Exemption $75,000
Disability $75,000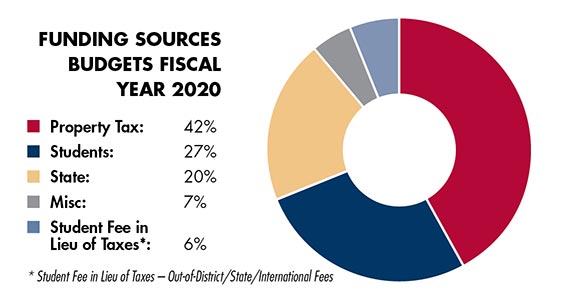 BOND RATING - STANDARD & POOR'S AAA
Tradition of Excellence
Lone Star College has been helping students start close and go far for more than 40 years. With its beginnings in 1973, LSC remains steadfast in its commitment to student success and credential completion.
In 1972, residents in the Aldine, Humble and Spring Independent School Districts elected to create a junior college district, which became known as North Harris County College. The college opens its doors in the fall of 1973 and the 16-member staff welcomed 613 students to the first classes held at Aldine High School.
Fast forward 40 years and Lone Star College has grown to six colleges, multiple centers and two University Centers with 85,000 credit students and a total of more than 98,000 students.
LSC is now the largest institution of higher education in the Houston area and is one of the fastest-growing community college systems in the nation.
In 2008, Lone Star College became the new name for the North Harris Montgomery Community College District after months of deliberation and a polling process that included input from more than 5,000 participants from the community. The board of trustees voted unanimously to change the name to Lone Star College, which was the overwhelmingly favorite choice among those who participated.
The original three school districts have been joined by eight others: New Caney in 1981, Tomball in 1982, Conroe in 1991, Willis and Splendora in 1996, Klein in 1998, and Cypress-Fairbanks and Magnolia in 2000.
The Lone Star College System offices were relocated to their current location in The Woodlands in 2003. The Training and Development Center was added to serve as the home of the district's monthly board meetings as well as create an ideal learning facility for the college system and the community.
LSC-Cyfair History
LSC-Kingwood History
LSC-Montgomery History
LSC-North Harris History
LSC-Tomball History
LSC-University Park
Resources
Star Newsletter

The Star Newsletter is distributed to every home in the Lone Star College service area.
SilverStar Newsletter

The SilverStar Newsletter is distributed to residents age 65+ in the Lone Star College service area. For more information, visit our Media Relations page.