Fast Facts
Enrollment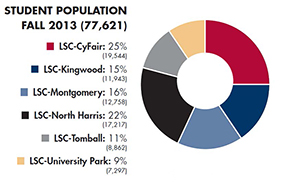 view fall 2013 enrollment report (pdf)
Economic Impact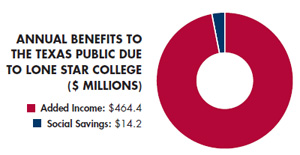 State and local governments allocated approximately $76.8 million in support of Lone Star College in FY 2008–09 and for every $1 appropriated, taxpayers will see a cumulative return of $2.30 in the form of higher tax revenues and avoided social costs.
Higher earnings of Lone Star College students and associated increases in state income and business productivity expand the tax base in Texas by about $464.4 million each year.
Because an educated workforce produces an improved lifestyle behavior, along with fewer welfare and unemployment claims, the 2008 – 09 student population of Lone Star College will generate $14.2 million a year in social savings to the Texas public.
View the full economic impact report (pdf)
Additional Reports
View the Office of Institutional Research and Effectiveness (ORIE) website
Demographics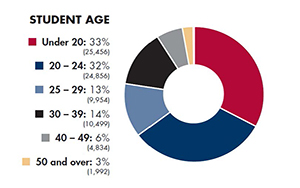 View student information for fall 2013 (pdf)
Funding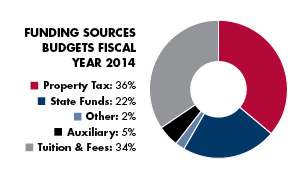 Budget 2013 – 2014
$317,790,000
Funding Sources 2013 – 2014
Property Tax - $109,570,000
State Funds - $72,510,000
Other - $6,380,000
Auxiliary - $14,700,000
Tuition and Fees - $104,970,000
Property Tax Rates
Maintenance and Operations - $0.0825
Interest and Sinking - $0.0335
Tax Rate Total - $0.1160
Bond Rating
Standard & Poor's AAA