The Honors College Chancellor's Fellows
Intro Section
As is the case with many scholarship packages, the goal of the Fellows Award is to assist with educational expenses and remove outside barriers so Fellows students can focus completely on their education and be successful program participants. We want Fellows students to maximize their involvement in the program both inside the classroom, with the required course curriculum, and outside the classroom, with the extensive Honors College service projects and events. Specifically, this award is to help students pursue a course of study culminating in an Honors AA or Honors AS degree. To that end, individual award amounts will vary and other sources of financial aid will be taken into consideration before final scholarship awards are made.
Fellows receive all the benefits of The Honors College at Lone Star College, plus:
Honors Associate Degree (AA or AS)
Award Package to include tuition and fees (up to 15 credit hours of in-district tuition per semester)
Book Allowance (up to $600 per semester)
Allowance ($600 per semester)
International travel opportunities
The Honors College Presidential Scholars
Presidential Scholars receive all the benefits of The Honors College at Lone Star College, plus:
Fast-tracked to graduate with high or highest Honors in Research
Award Package to include:
Renewable and refundable $750 award/semester, pending remaining in honors good standing
International travel opportunities
Both Chancellor's Fellows and Presidential Scholars receive access to the same specialized cohort-based coursework their first semester, in our effort to provide maximal support for students progressing through our project-based curriculum.

Feel free to contact us (TheHonorsCollege@LoneStar.edu) if you have questions about the application process or about honors in general. We are happy to help!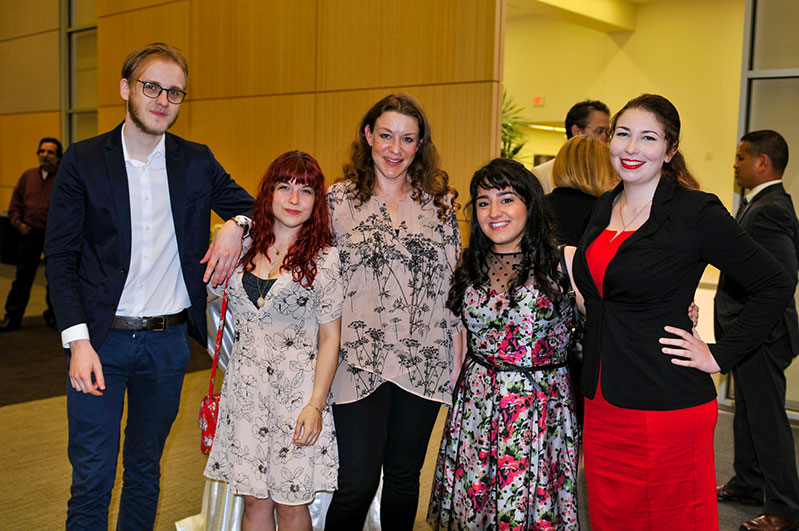 Application Process
The Honors College Chancellor's Fellows and Presidential Scholars application, Cohort to start Fall 2024, opens October 15th!
A limited number of incoming freshmen will be admitted as Honors College Chancellor's Fellows or Presidential Scholars. To be eligible to join The Honors College Chancellor's Fellows or Presidential Scholars, an applicant must be a first-year student and meet the entry criteria to The Honors College Program. Applicants will need to submit their APPLICATION electronically, and then email the supporting documents to the Honors College System Office. Once required documents are received, eligible applicants will need to complete an interview.
To be eligible for an interview, an applicant must submit:
Completed Application
Writing Sample - A 500-word essay on one of two topics:


Describe a problem you've solved or a problem you'd like to solve. It can be an intellectual challenge, a research query, an ethical dilemma - anything that is of personal importance, no matter the scale. Explain its significance to you and what steps you took or could be taken to identify the solution.
Some students have a background, identity, interest, or talent that is so meaningful they believe their application would be incomplete without it. If this sounds like you, then please share your story.

Unofficial copy of your high school transcript (must have your high school rank and GPA). If an applicant is admitted as a Chancellor's Fellow, then an official transcript will be required post-graduation from high school.
To be eligible to be awarded, applicants would also need to submit:
Three letters of recommendation - Your letters of recommendation must be sent electronically from the recommender, from your College Career and Counseling Center, or from your Advisor's Office directly to The Honors College System Office (emailed directly to TheHonorsCollege@LoneStar.edu).
Confirmation of a submitted FAFSA or TASFA application.
Official high school transcripts post graduation
Beginning with first-year applicants for Fall 2022, students may apply with or without standardized test scores such as the SAT or ACT. If students decide to submit their test scores, they will be evaluated alongside other required materials within our holistic review process. Students who believe their test scores truly reflect their academic performance and college readiness should consider submitting their scores. If students decide to apply without SAT or ACT scores, the admission committee will review their application based on academic performance, high school ranking, engagement in and outside of the classroom, writing samples and letter(s) of recommendation. Test scores are still strongly recommended for Home School students who are applying for the competitive Chancellor's Fellow and Presidential Scholars Scholarships.
Please note: It is the applicant's responsibility to ensure and confirm that all documents required for their Fellows award or Presidential award application (i.e., copies of unofficial high school transcripts, writing sample, three letters of recommendation, copies of unofficial standardized test scores, and FAFSA/TASFA confirmation) are received by the Honors College System Office. We will contact you for a personal interview if selected. An interview is required for final selection.
For more information, contact your nearest Honors College campus or you may also contact the System Honors College office at (281) 290-2879 or by email at TheHonorsCollege@LoneStar.edu.
Make LSC part of your story.