LSC-Kingwood Center for Civic Engagement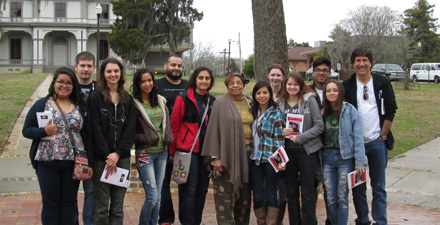 Encouraging students, faculty, and staff to become active citizens involved in their communities by providing opportunities and resources to engage in empowering community activities.
Programs
The LSC-Kingwood Center for Civic Engagement participates in several programs including:
Alternative Spring Break
Alternative Spring Break provides students with the opportunity to work on service-oriented projects with community-based organizations over the course of their spring break.
Learn More About Alternative Spring Break
Bayou City Book Festival
The Bayou City Book Festival desires to effectively and efficiently integrate literacy and literary works within the lives of Lone Star College-Kingwood students and the wider Houston-area.
Learn More About Bayou City Book Festival
Citizen Alum
Citizen Alum is an effort to change the framework of alumni relations, partnering with alumni as "do-ers." Citizen Alum aims to find the hidden treasure--the creative, intellectual, and social capital of alumni, especially recent "gap alums" and alums who opt out of conventional roles, supporting them as contributors to their home communities and as allies in education.
College Knowledge Corps
Lone Star College-Kingwood and AmeriCorps have created the College Knowlege Corps, a mentoring program for first year college students and high school students based on three foundation.
Learn More About College Knowledge Corps
Common Read
The Common Read program is designed to create a shared intellectual experience for the students at Lone Star College-Kingwood.
Deliberative Dialogues
Deliberative Dialogues provide a way for community members of diverse views and experiences to seek a shared understanding of a problem and to search for common ground for action.
Learn More About Deliberative Dialogues
?Engage the Election
Lone Star College-Kingwood hosts candidate forums, voter registration drives and voter registrar training.
Learn More About Enage the Election
Human Library
The Human Library seeks to challenge prejudice by facilitating a conversation between two people: Books and Readers.
Learn More About Human Library
Visit the Human Library Website
Humanities and Democracy
The Humanities and Democracy engages the power of the humanities to promote understanding and mutual respect for people with diverse histories, cultures, and perspectives within the United States. Lone Star College is one of 10 community colleges nationwide selected by Association of American Colleges and Universities (AAC&U) and The Democracy Commitment: An American Community College Initiative (TDC) to infuse this key skill for civic learning and democratic engagement through humanities courses and perspectives.
Hunger Banquet
When guests arrive at the Oxfam America Hunger Banquet, they draw tickets at random that assign each to a high-, middle-, or low-income tier based on the latest stastics about the humber of people living in poverty.
Learn More About Hunger Banquet
Visit the Oxfam America Hunger Banquet Website
Public Achievement
Public Achievement is a youth civic engagement initiative focused on the most basic concepts of citizenship, democracy, and public work.
Learn More About Public Achievement
Visit the Public Achievement Website
Voter Friendly Campus
Lone Star College-Kingwood is part of a select group of campuses from around the country that participated in the inaugural class and received the designation. The Voter Frinedly Campus iniative is led by national nonpartisan organizations Campus Vote Project (CVP) and Student Affairs Professionals in Higher Education (NASPA).
Visit the Voter Friendly Campus Website
Upcoming Events
For a list of upcoming events, please see the CCE Calendar.
Make LSC part of your story.